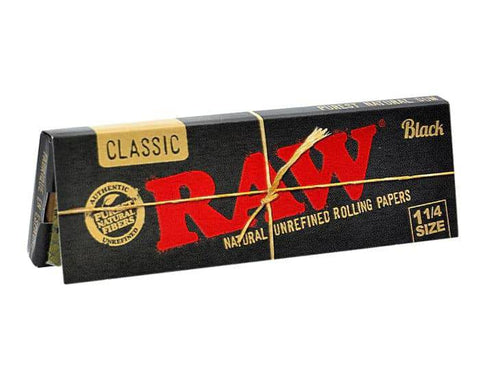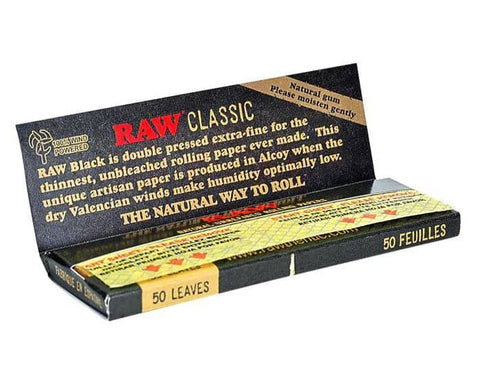 RAW CLASSIC BLACK 1 1/4 ROLLING PAPERS PACK
Indulge in the exquisite pleasure of RAW Black Natural Rolling Papers - a must-have for connoisseurs who appreciate the finest, ultra-thin rolling papers. Crafted with meticulous attention to detail, RAW, the unrivaled masters of premium rolling papers, present their signature black artisan paper, achieved through a unique double pressing technique. Prepare to be amazed by their remarkable thinness, revolutionizing your rolling experience.

Experience the true essence of purity with RAW Black Natural Rolling Papers. Originating from the historic town of Alcoy, Spain, these papers are a testament to RAW's unwavering commitment to quality. Crafted without the use of harmful bleaches and contaminants, they offer an authentic, unrefined smoking experience that truly sets them apart.

Immerse yourself in the exceptional flavors of your chosen herbs or tobacco when you roll with RAW Black. The thinness of these papers allows the natural essence to shine through, elevating your smoking session to new heights. With RAW Black, every puff becomes a sensory journey, delivering unmatched satisfaction with each inhalation.

At Vape City USA, we take pride in curating the finest smoking essentials, and RAW Black Natural Rolling Papers are no exception. Explore our extensive collection and discover an array of top-quality products to enhance your smoking rituals. Immerse yourself in a world of luxury and precision, knowing that every rolling paper and accessory we offer has been hand-selected to ensure the utmost satisfaction.

Elevate your rolling experience with RAW Black Natural Rolling Papers and savor the difference that true craftsmanship brings. Shop now at Vape City USA and unlock a new level of smoking pleasure.
Product Details:  
Size: 83mm - 1 1/4
50 leaves per pack
Brand: RAW
Type: RAW Classic Black Rolling Papers
*THIS ITEM IS INTENDED FOR TOBACCO USE ONLY*
Packaging Contents:  
1x RAW Classic Black 1 1/4 Rolling Papers Pack