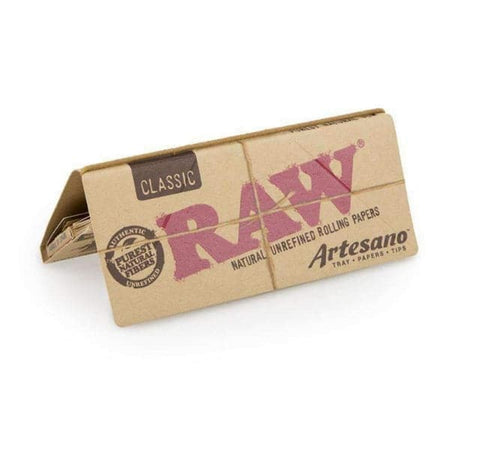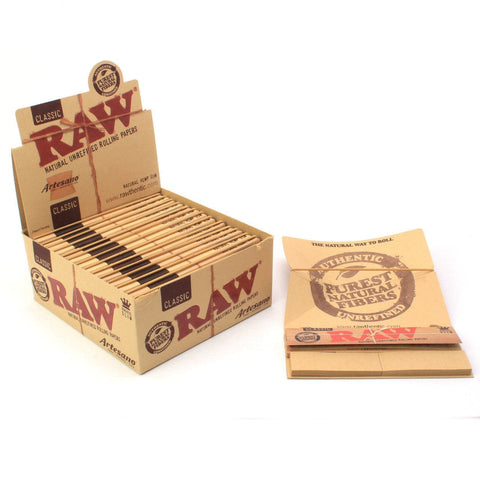 RAW CLASSIC ARTESANO KING SIZE SLIM ROLLING PAPERS PACK
Experience the purity of RAW 1 1/4 Classic Rolling Papers, crafted with 100% all-natural materials. Unleash the essence of authenticity as you embrace the unique hybrid blend of unbleached fibers, seamlessly showcased by the papers' natural color. RAW rolling papers redefine thinness, allowing you to see through them effortlessly while savoring a satisfying smoke.

Indulge in the extraordinary durability of RAW papers, offering you the perfect balance between delicacy and resilience. Each sheet features RAW's exclusive watermark, meticulously designed to prevent runs and ensure a consistently smooth and even burn—just the way RAW is renowned for.

At Vape City USA, we bring you the unparalleled quality of RAW 1 1/4 Classic Rolling Papers. Immerse yourself in the seamless fusion of natural materials, purity, and unparalleled craftsmanship. With our extensive selection of premium products, accessories, and renowned customer service, we're your ultimate destination for a truly exceptional vaping experience.

Unveil the true essence of your smoke with RAW 1 1/4 Classic Rolling Papers. Elevate your passion for smoking and explore the world of RAW with Vape City USA today.
Product Details: 
Size: 110mm - King Size Slim
Tips Size - 26mm
Brand: RAW
Type: RAW Classic Artesano King Size Slim Rolling Papers
*THIS ITEM IS INTENDED FOR TOBACCO USE ONLY*
Packaging Contents:  
1x

 

RAW Classic Artesano King Size Slim Rolling Papers Pack