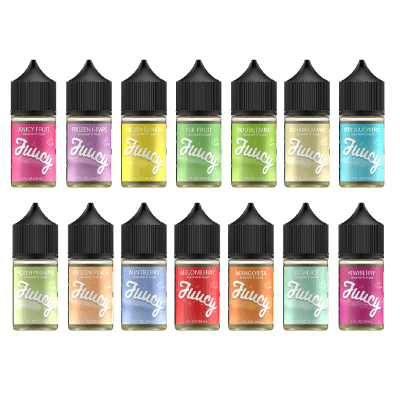 JUUCY SALT NIC E-LIQUID 30ML
Indulge in a sensational vaping experience with Juucy Salt Nic. Bursting with an array of irresistible flavors, this gourmet e-liquid is meticulously crafted to deliver unparalleled satisfaction. Originally introduced in Juucy disposable devices, Juucy Salt Nic now offers the convenience of refilling your favorite pod or tank. Prepare to be amazed as one of the top-selling disposable brands in the industry unveils its latest masterpiece!

Introducing Juucy Gourmet E-Liquid, a game-changing innovation that brings the beloved flavors you know and love into e-juice form. Now, all the remarkable tastes you crave are available for your refillable vape devices. Elevate your vaping routine with the delectable range of Juucy flavors, meticulously crafted to captivate your taste buds and leave you craving for more.

At Vape City USA, we proudly present the irresistible Juucy E-Liquid collection. Satisfy your cravings and unlock a world of deliciousness by exploring our extensive range of Juucy flavors. From fruity concoctions to tantalizing blends, we have the perfect e-liquid to suit every palate.

Don't miss out on the opportunity to experience the ultimate vaping pleasure. Get your hands on Juucy E-Liquid today at Vape City USA, your go-to destination for exceptional vaping products. Elevate your flavor game and embark on a tantalizing journey with Juucy, your ticket to pure vaping bliss.
Product Details:
Brand: Juucy
Bottle Size: 30mL
Bottle Type: Chubby Unicorn Bottle
VG/PG: 50/50
Made in USA
Nicotine Type: Salt Nicotine
Nicotine Level: 50mg
Package Includes:  
1x Juucy Salt Nic E-Liquid 30mL