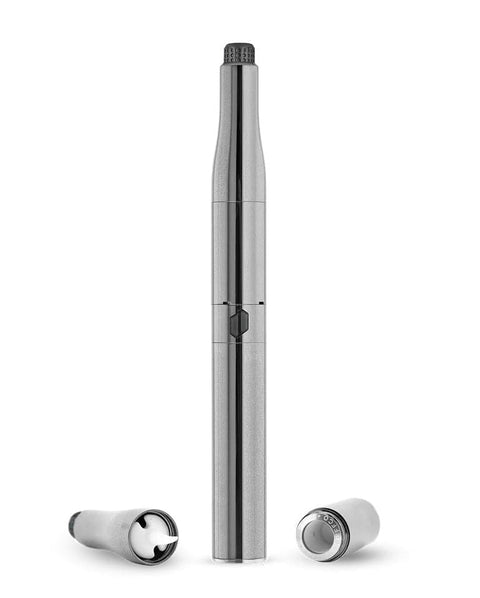 PUFFCO PLUS VAPORIZER
Introducing the ultimate concentrate vape pen, hailed as the most prestigious and tantalizing in its class, now with a stunning new appearance that will leave you breathless.

Prepare to be captivated by the innovative Plus mouthpiece, a true marvel that seamlessly combines a loading tool, splash guard, and carb cap into a single masterpiece. Say goodbye to messy sessions and hello to convenience as the extendable dart, effortlessly controlled by a gentle press on the silicone top, grants you effortless access to scoop up your cherished concentrates.

When it comes to premium extracts, there's simply no rival to this exceptional mobile vaporizer. Immerse yourself in an unparalleled vaping experience, where flavor and potency converge in perfect harmony.

At Vape City USA, we pride ourselves on curating only the finest products for our discerning customers. Embark on a journey of elevated sensations and unleash the true essence of your concentrates with our remarkable concentrate vape pen.

Unleash the extraordinary. Experience the extraordinary. Elevate your vaping to new heights with the pinnacle of concentrate vaporizers, available exclusively at Vape City USA.
MOUTHPIECE / MASTERPIECE
A Puffco exclusive innovation: We combined a carb cap, loading tool, and splash guard all built into the mouthpiece. You can extend the dart by pressing down on the mouthpiece tip, to make loading a clean and easy experience.
COIL-LESS CERAMIC BOWL
We innovated a pressure-sealed bowl, which evenly heats your oil instead of scorching it with coils, providing the purest flavor.
3 HEAT SETTINGS
The freedom to select your own desired heat modes based on your consumption priorities and load size. From a light flavorful hit, to a thick smoke cloud.
SESH-MODE FUNCTIONALITY
A Puffco exclusive innovation: We pioneered a 12 second continuous heat mode by double tapping the button, instead of having to hold it. This gives you a full medicated dose.