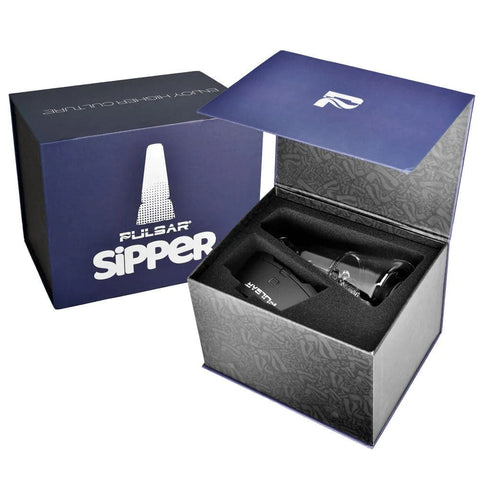 PULSAR SIPPER DUAL USE CONCENTRATE & 510 CARTRIDGE VAPORIZER BUBBLER
Introducing the Pulsar Sipper Dual Use Concentrate or 510 Cartridge Vaporizer Bubbler - the pinnacle of vape bubblers. Just like a finely aged single malt whiskey deserves its own decanter, your quality concentrates deserve the ultimate vessel for savoring every precious drop.

Prepare to be captivated by the seamless fusion of retro style and cutting-edge technology found in the Sipper. Immerse yourself in the future with its user-friendly one-button touchpad interface, accompanied by an LED light that not only indicates battery life but also showcases the selected voltage setting with a mesmerizing array of colors. With four preset voltages to choose from, tailored to your preferences, the Sipper ensures a luxurious and personalized vaping experience. Plus, the 1500mAh battery boasts extended life, thanks to the convenient 10-minute inactivity auto-shut off, and can be effortlessly recharged using the included USB-C cable.

Experience the epitome of water-cooled vapor without any hassle. Activate the Sipper's hands-free auto-fill mode by simply tapping the touchpad button twice, and witness the magic unfold as the pump fills the bubble chamber with luscious clouds of vapor. But that's not all! Unlike conventional vape-water pipe setups, the vapor-filled bubbler cup easily detaches from the base, allowing you to indulge in the flavors and aromas of your concentrates while the Sipper base remains securely in place. Enjoy a regal vaping session alone or pass the bubbler cup among friends for a more social experience. Simply reattach and refill for another round of satisfaction.

With the Sipper, you don't have to compromise. Embrace the best of both worlds with the ability to handle wax and oil cartridges effortlessly. Load up the triple quartz coil wax atomizer using the provided stainless steel dab tool, or attach your preferred 0.5 or 1mL 510 cartridge for cool, filtered hits on demand. It's the perfect solution for exploring new strains and flavors without the need to switch devices.

Indulge in the ultimate vaping luxury with the Pulsar Sipper Dual Use Concentrate or 510 Cartridge Vaporizer Bubbler. Elevate your vaping experience to new heights of refinement, only at Vape City USA. Explore our exceptional collection of vape products and accessories, and unlock a world of unparalleled satisfaction. Shop now and discover the true art of vaping excellence.

Covered by a 1 year end user warranty.

PULSAR SIPPER TECHNICAL SPECIFICATIONS:
Size: 4.3 x 4.3 x 8.75 inches (10.9 x 10.9 x 22.5cm)

Battery Capacity: 1500mAh

Voltage: 2.5v, 3v, 3.5v, 4.2v

Atomizer Resistance: 1Ω (1 ohm)

Charger: USB-C

Pulsar Sipper base

Borosilicate glass bubbler cup

Airflow valve

Atomizer/cartridge cover

Wax atomizer w/ triple quartz coil

510 connection

Stainless steel dab tool/poker

USB-C charging cable
Package Includes:  
1x Pulsar Sipper Dual Use Concentrate & 510 Cartridge Vaporizer Bubbler