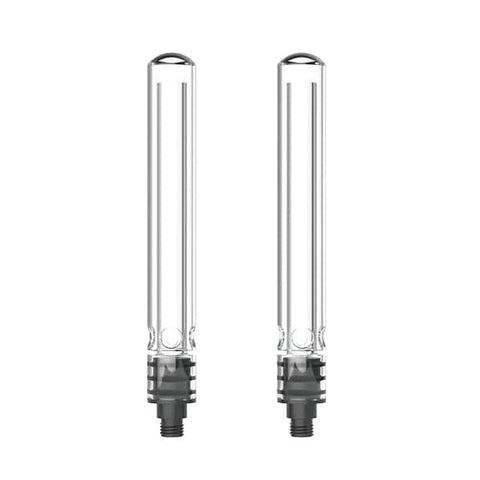 STÜNDENGLASS LARGE REPLACEMENT GLASS UPSTEMS
Elevate your smoking experience with our Set of 2 Clear Glass Upstems, designed to enhance the visual presentation of your Stündenglass. Prepare to be mesmerized as the smoke gracefully travels up, down, and through the percolators, creating a captivating and exceptionally clear display.

Crafted from high-quality borosilicate glass, these sleek upstems are not only aesthetically pleasing but also provide a truly unique smoking experience. With easy installation, simply replace your existing large upstems with these precision-engineered glass pieces and unlock a new level of enjoyment.

Immerse yourself in the art of smoking with Vape City USA's Set of 2 Clear Glass Upstems, where style meets function. Experience the difference today and elevate your smoking sessions to new heights. Shop now and discover the unparalleled satisfaction that awaits you.

At Vape City USA, we're committed to providing you with top-notch products, exceptional customer service, and an unmatched online shopping experience. Join our community of satisfied customers and indulge in the finest vaping and smoking essentials available. Elevate your enjoyment, enhance your aesthetics, and embrace the artistry of smoking with Vape City USA.
WILL NOT WORK WITH SMALL GLOBES OR PINEAPPLE GLOBES.
Cleaning should be with isopropyl alcohol only. Soak them then flush them out with water. NOT DISHWASHER SAFE.
Compatible with all Gravity Infusers.
Package Includes:  
1x Stündenglass Large Replacement Glass Upstems