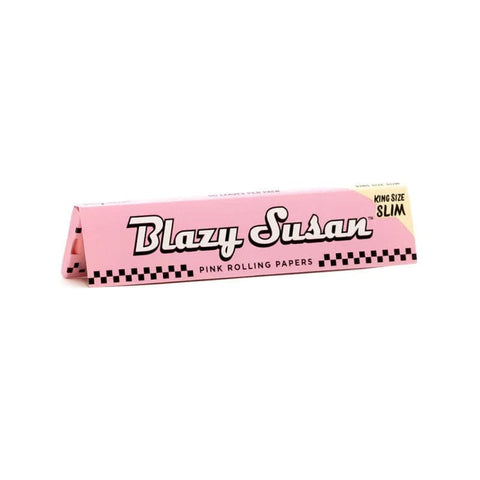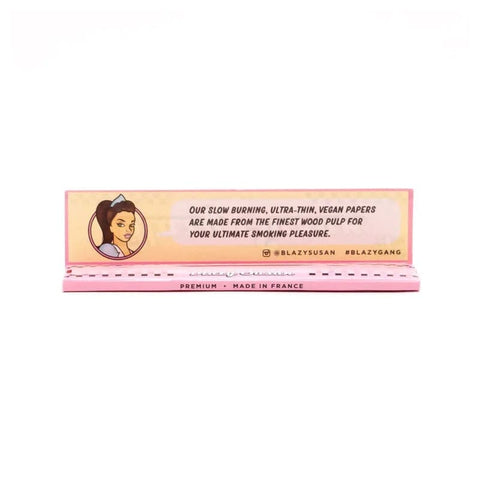 BLAZY SUSAN 1 1/4 ROLLING PAPERS 50CT BOX
Introducing the Blazy Susan 1 1/4 Rolling Papers 50CT Box - Your Ultimate Rolling Companion!

Are you a passionate daily roller who always runs out of papers at the most inconvenient times? Say goodbye to that frustration because we have the perfect solution just for you. Feast your eyes on our renowned Pink Rolling Papers, now available in a convenient Display Box containing a whopping 50 booklets. That's right, you'll receive a grand total of 2,500 premium papers, ensuring you never run out again!

Why settle for less when you can indulge in the superior quality of our Standard 1 ¼" Pink Rolling Papers? Crafted with utmost precision, these papers deliver an exquisite smoking experience like no other. Immerse yourself in smooth, even burns, allowing you to fully savor the flavors and aromas of your favorite herbs.

But wait, there's more! With this generous supply, you'll not only have more than enough papers for your own sessions, but you can also become the hero among your stoner friends. Share the joy of effortless rolling with your beloved circle, making unforgettable memories together.

Experience the convenience, quality, and camaraderie that the Blazy Susan 1 1/4 Rolling Papers 50CT Box brings to your smoking adventures. Don't miss out on this remarkable opportunity to elevate your rolling game to new heights. Order now and unlock the door to endless rolling pleasure!
Package Includes:

1x Blazy Susan 1 1/4 Rolling Papers 50ct Box