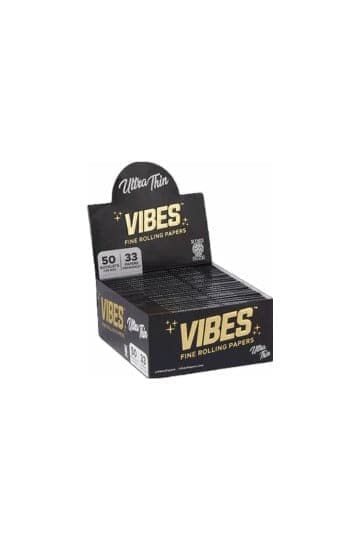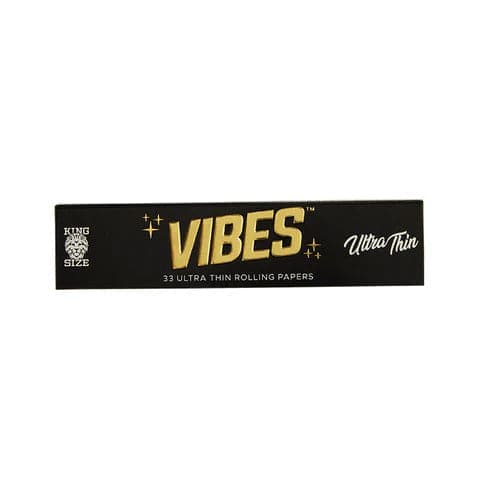 VIBES KING SIZE ULTRA THIN ROLLING PAPERS 50CT BOX
We're thrilled to introduce the Vibes Rolling Papers Box - King Size Slim, designed to elevate your smoking experience to new heights. With a capacity to hold approximately 1 gram of material, these King Size Slim papers are perfect for your next session.

Each box of Vibes Rolling Papers contains an impressive 50 booklets, with 33 papers in each booklet, providing you with a whopping total of 1,650 King Size Slim Vibes Rolling Papers. You'll never run out of your favorite papers again, ensuring you're always prepared for the perfect smoke.

Choose from our selection of Vibes papers available in Hemp, Rice, or Ultra Thin variants. For the thinnest paper available in a king size, look no further than the Vibes Ultra Thin papers. Experience the ultimate purity of your dry herb's smoke as these papers prevent any overpowering "paper smoke" taste, allowing you to savor the true flavors of your material.

Enhance your smoking pleasure with Vibes Rolling Papers, where quality and flavor unite. Order your Vibes Rolling Papers Box - King Size Slim today and enjoy a premium smoking experience like no other.

At Vape City USA, we take pride in providing an extensive range of high-quality vaping products, accessories, and smoking essentials. With our commitment to exceptional customer service and unbeatable prices, we're here to fulfill all your vaping and smoking needs. Shop now and discover the Vape City USA difference.
Product Details:
50x King Size Vibes Rolling Papers
Natural Paper
Cultivated and Crafted in France
Cut and Kitted in the Dominican Republic
Slow & Even Burning
Standard King Size Length
Package Includes:
1x Vibes King Size Ultra Thin Rolling Papers 50ct Box