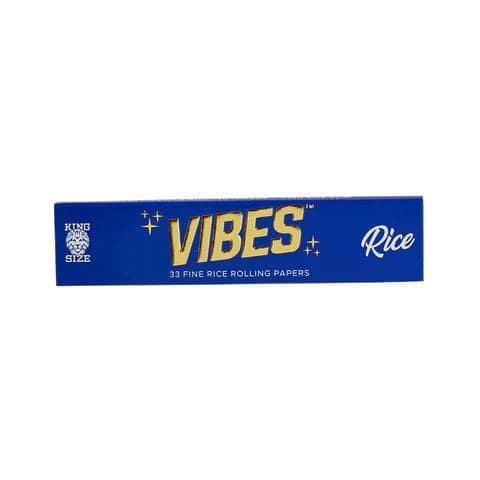 VIBES KING SIZE RICE ROLLING PAPERS PACK
Join the ranks of vaping connoisseurs who appreciate the finer details, such as the exceptional Vibes™ Rolling Papers curated by none other than Bay Area rap legend, Berner. Elevate your smoking experience with these meticulously crafted papers, designed to enhance the flavor and quality of your dry herb.

Crafted in France with utmost precision, Vibes Rolling Papers boast natural hemp or rice, ensuring a smooth and consistent smoke every time. Experience the pleasure of slow-burning papers that allow your dry herb's true essence to shine through, unhindered by excessive "paper smoke". With their ultra-thin construction, Vibes papers deliver an elevated flavor experience, ensuring that each puff is a taste sensation like no other.

These standard 1.25" length papers are perfectly suited for holding up to a half gram of dry herb, providing you with the ideal size for a balanced and enjoyable smoking session. Don't settle for anything less than perfection when it comes to your smoking experience—choose Vibes Rolling Papers and embrace a new level of sophistication and satisfaction.

Experience the difference with Vape City USA, your trusted online vaping store near you. Unleash your senses and indulge in the highest quality products and accessories. Elevate your smoking game with Vibes Rolling Papers and discover why discerning smokers across the globe have made them their go-to choice. Shop now and elevate your smoking experience with Vape City USA.
Product Details:
50x 1.25" Vibes Rolling Papers
Natural Paper
Cultivated and Crafted in France
Cut and Kitted in the Dominican Republic
Slow & Even Burning
Standard 1.25" Length
Package Includes:
1x Vibes King Size Rice Rolling Papers Pack