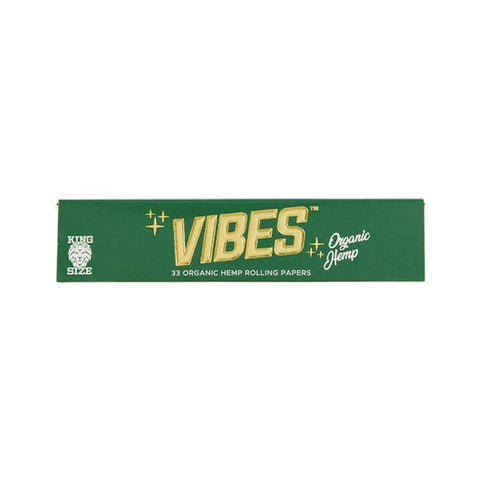 VIBES KING SIZE ORGANIC HEMP ROLLING PAPERS PACK
Introducing Vibes™ Rolling Papers, the latest addition to the empire of Bay Area rap legend, Berner. As an esteemed online vaping store near you, Vape City USA proudly offers these exceptional rolling papers crafted with natural hemp or rice.

Elevate your smoking experience with Vibes Rolling Papers, carefully cultivated and crafted in France. Experience ample and consistent smoke, thanks to the meticulously chosen materials that ensure a slow and even burn. The ultra-thin construction of these papers allows your dry herb's natural flavors to shine through, free from any overpowering "paper smoke" interference.

Measuring in at the standard 1.25" length, Vibes Rolling Papers can easily wrap around a half gram of dry herb, providing you with a generous and satisfying smoke. Embrace the art of rolling with Vibes, where quality, flavor, and craftsmanship intertwine to deliver an elevated smoking experience like no other.

Shop now at Vape City USA, your go-to online vaping store, and immerse yourself in the world of Vibes Rolling Papers. Let the natural essence of your dry herb flourish, as you enjoy a slow burn and an unmatched flavor experience. Elevate your smoking rituals with Vibes, the preferred choice of connoisseurs.
Product Details:
50x 1.25" Vibes Rolling Papers
Natural Paper
Cultivated and Crafted in France
Cut and Kitted in the Dominican Republic
Slow & Even Burning
Standard 1.25" Length
Package Includes:
1x Vibes King Size Organic Hemp Rolling Papers Pack