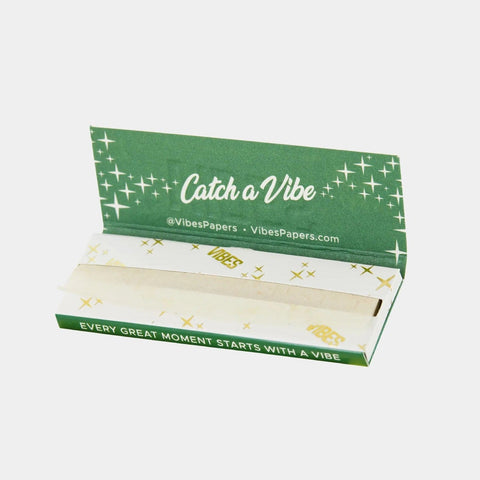 VIBES KING SIZE ORGANIC HEMP ROLLING PAPERS 50CT BOX
Enhance your smoking experience with the Vibes Rolling Papers Box - King Size Slim, available at Vape City USA, your premier online vaping store just a click away. Designed to elevate your sessions, these King Size Slim papers have the perfect capacity to hold approximately 1 gram of your preferred material. Each box is a treasure trove of 50 booklets, boasting a total of 1,650 Vibes Rolling Papers in the popular King Size Slim format.

Choose from our selection of Hemp, Rice, or Ultra Thin options to suit your preferences. For those seeking longer sessions, Vibes Organic Hemp Papers King Size Slim is the ideal choice. Crafted meticulously from 100% organic hemp fibers, these papers deliver a smooth and flavorful smoking experience. Each pack contains 33 high-quality papers, ensuring you're always well-prepared for your next smoke session.

At Vape City USA, we understand the importance of quality and variety, which is why we offer an extensive range of smoking accessories, including the Vibes Rolling Papers Box - King Size Slim. Take advantage of our user-friendly online store, exceptional customer service, and unbeatable deals on a wide selection of products. Elevate your smoking rituals with Vape City USA, your trusted destination for all your smoking needs.

In summary, the Vibes Rolling Papers Box - King Size Slim is your ultimate companion for a remarkable smoking experience. Don't settle for anything less than perfection - explore our online vaping store and indulge in the finest smoking accessories available. Shop now and embrace the convenience, quality, and satisfaction of Vape City USA.
Product Details:
50x King Size Vibes Rolling Papers
Natural Paper
Cultivated and Crafted in France
Cut and Kitted in the Dominican Republic
Slow & Even Burning
Standard King Size Length
Package Includes:
1x Vibes King Size Organic Hemp Rolling Papers 50ct Box