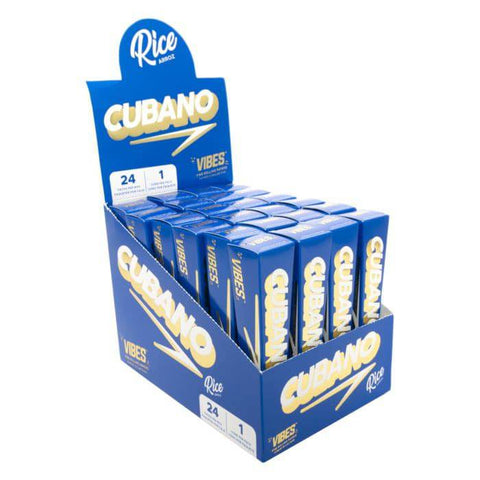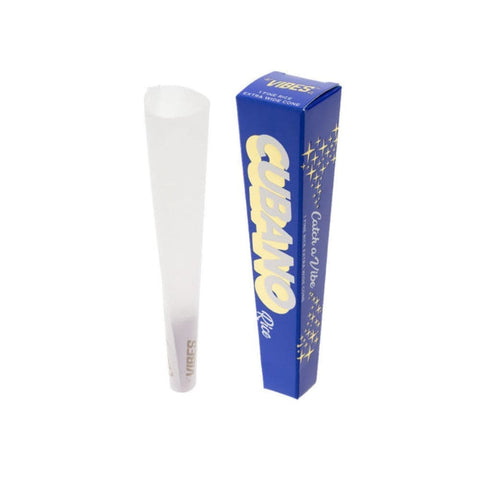 VIBES CUBANO RICE PRE ROLLED CONE 24CT BOX
Get ready to elevate your smoking experience with the Cubano Cones Box, featuring 24 of the largest cones on the market. Designed for those seeking an exceptional smoking experience, each Cubano Cone has a remarkable capacity of over 8 grams of dry herb, making them perfect for sharing at festivals or during camping trips.

Choose from three premium options: Ultra Thin, Rice, or Hemp paper. With no added calcium carbonate and an all-natural sealing gum sourced from the Acacia tree, the Cubano Cones prioritize purity and naturalness. Rest assured that each cone is crafted to maintain its structural integrity throughout your smoking sessions, ensuring a reliable and enjoyable experience every time.

Experience the satisfaction of a perfectly rolled and generously sized cone with the Vibes Cubano Cones Box, available exclusively at Vape City USA. Elevate your smoking sessions to new heights, and never worry about running out of herb again. Shop now and enjoy the convenience and quality that our online vaping store brings right to your doorstep.


Product Details:
24 Pack of Vibes Cubano Cones

Over 8 Grams Per Cone

Ultra Thin Paper

Natural Acacia Tree Gum

No Added Calcium Carbonate
Package Includes:
1x Vibes Cubano Rice Pre Rolled Cone 24ct Box