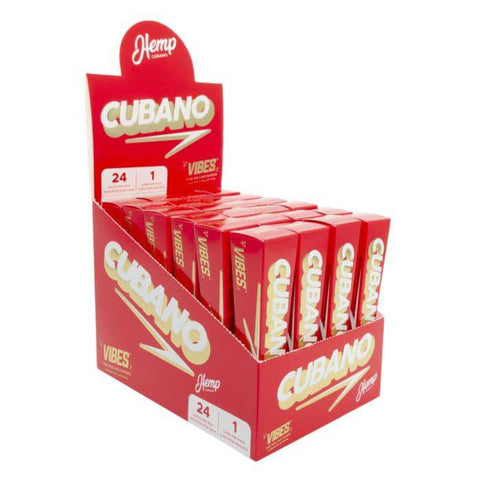 VIBES CUBANO HEMP PRE ROLLED CONE 24CT BOX
Get ready to elevate your smoking experience with the Cubano Cones Box, offering you a whopping 24 of the largest cones available on the market. Perfect for those special occasions and large gatherings like festivals or camping trips, each Cubano Cone has the capacity to hold over 8 grams of your favorite dry herb.

Choose from our selection of Ultra Thin, Rice, or Hemp paper options for your Cubano Cones. Rest assured, these cones are crafted without any added calcium carbonate, ensuring a pure smoking experience. With an all-natural sealing gum derived from the Acacia tree, these cones provide a seamless and reliable seal, keeping your giant cone of dry herb intact throughout your sessions.

At Vape City USA, we understand the importance of structural integrity. That's why the Cubano Cones are meticulously designed to withstand the rigors of your smoking sessions, ensuring that you can enjoy your giant cone without any worries or letdowns. Elevate your smoking game with the Vibes Cubano Cones Box and experience the ultimate pleasure of a smooth, convenient, and reliable smoking experience.

Unlock the true potential of your smoking sessions with the Cubano Cones Box, available exclusively at Vape City USA. Shop now and savor the joy of indulging in a perfectly rolled and generously sized cone, making every smoking moment truly unforgettable.


Product Details:
24 Pack of Vibes Cubano Cones

Over 8 Grams Per Cone

Ultra Thin Paper

Natural Acacia Tree Gum

No Added Calcium Carbonate
Package Includes:
1x Vibes Cubano Hemp Pre Rolled Cone 24ct Box