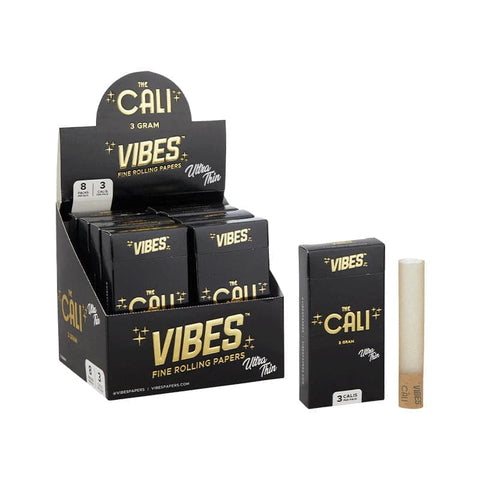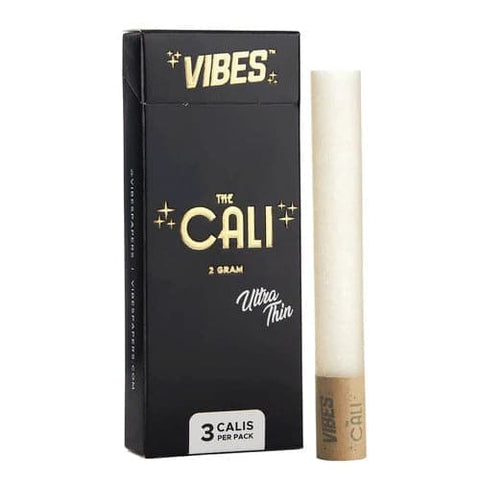 VIBES CALI ULTRA THIN PRE ROLLED 2-GRAM CONE (3-PACK) 8CT BOX
Get ready to indulge in the most intimate pre-rolls introduced by entrepreneur and Bay Area rap sensation, Berner—the Cali by VIBES™. These pre-rolls are meticulously crafted to capture Berner's signature rolling style, ensuring an unparalleled smoking experience.

Experience the attention to detail with the Cali's cylindrical pre-roll tube, designed with a wide circumference to provide optimal airflow, comfortable pulls, and a truly satisfying big-smoke experience. Each pre-roll is carefully packed with 2 grams of high-quality herb, delivering the perfect balance for a memorable smoke session.

The Cali by VIBES™ takes it a step further with specially developed tips that offer stability while filling up the pre-roll, ensuring a seamless and hassle-free experience. These tips also act as a filter, eliminating any unwanted particles and delivering a smooth and enjoyable smoke every time.

At Vape City USA, we understand your desire for excellence and authenticity. That's why we offer the Vibes Cali 2 Gram Cones in a convenient package of 8 packs per box, with 3 Calis per pack, totaling an impressive 24 pre-rolls. Elevate your smoking game with Vape City USA and savor the artistry of Berner's Cali by VIBES™.

Shop now and immerse yourself in the ultimate smoking experience. Experience the precision, style, and satisfaction of the Cali by VIBES™, exclusively available at Vape City USA, your go-to destination for all your smoking needs. 
Product Details:
2G Capacity 
Wide, Cylindrical Shape
Optimal Airflow
Big-Smoke Experience
Easy-To-Pack Design
4 Blends Available
Cultivated In France
Hand-Rolled In Dominican Republic
Acacia Gum
Package Includes:
1x Vibes Cali Ultra Thin Pre Rolled 2-Gram Cone (3-Pack) 8ct Box