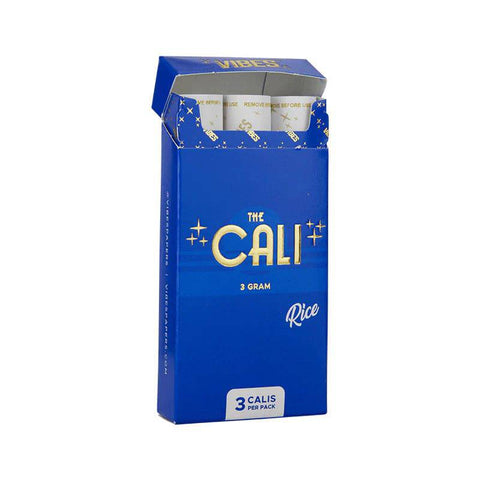 VIBES CALI RICE PRE ROLLED 3-GRAM CONE 3-PACK
Get ready to experience the next level of pre-rolls with the Cali by VIBES™, curated by the visionary entrepreneur and renowned Bay Area rapper, Berner. These pre-rolls embody Berner's signature rolling style, ensuring an intimate and exceptional smoking experience like no other.

The Cali pre-roll features meticulous attention to detail, mimicking Berner's renowned rolling technique. Its cylindrical tube design boasts a wide circumference, delivering optimal airflow for smooth and comfortable pulls. Prepare to be captivated by the immersive big-smoke experience that the Cali offers.

Designed with the utmost precision, the tips of the Cali pre-rolls provide stability while filling them up, ensuring a well-structured and perfectly rolled joint every time. Additionally, the tips act as effective filters, removing any unwanted particles to deliver a clean and satisfying smoke. Each Cali boasts an impressive 3G capacity, offering a generous amount of premium herb to elevate your smoking sessions.

Embrace the Cali by VIBES™, a masterpiece of craftsmanship and innovation. Immerse yourself in Berner's world and savor the unforgettable moments that await you. Shop now at Vape City USA and discover the ultimate fusion of style, quality, and an unparalleled smoking experience.


Product Details:
3G Capacity 
Wide, Cylindrical Shape
Optimal Airflow
Big-Smoke Experience
Easy-To-Pack Design
4 Blends Available
Cultivated In France
Hand-Rolled In Dominican Republic
Acacia Gum