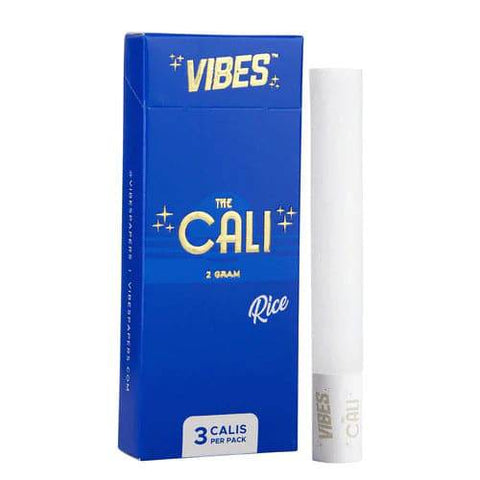 VIBES CALI RICE PRE ROLLED 2-GRAM CONE 3-PACK
Get ready to indulge in the next-level smoking experience with the Cali by VIBES™, the brainchild of renowned Bay Area rapper and entrepreneur, Berner. Designed to mimic Berner's signature rolling style, these intimate pre-rolls are a testament to attention to detail and unmatched quality.

Experience the ultimate pleasure of smoking with the Cali's unique cylindrical pre-roll tube. With its wide circumference, it ensures optimal airflow, allowing for smooth and comfortable pulls. Prepare yourself for a big-smoke experience that will leave you completely satisfied.

The Cali's tips are expertly crafted to provide both stability and filtration. They effortlessly hold the perfect amount of herb while filtering out any unwanted particles, ensuring a clean and enjoyable smoke every time. With a generous 2G capacity, the Cali by VIBES™ is your go-to choice for an exceptional smoking experience.

Discover the difference that the Cali by VIBES™ can make in your smoking sessions. Visit Vape City USA, your trusted online vaping store, and grab your pack today. Elevate your smoking game with the Cali's unrivaled quality and Berner's unmatched expertise.



Product Details:
2G Capacity 
Wide, Cylindrical Shape
Optimal Airflow
Big-Smoke Experience
Easy-To-Pack Design
4 Blends Available
Cultivated In France
Hand-Rolled In Dominican Republic
Acacia Gum
 Package Includes:
1x Vibes Cali Rice Pre Rolled 2-Gram Cone 3-Pack