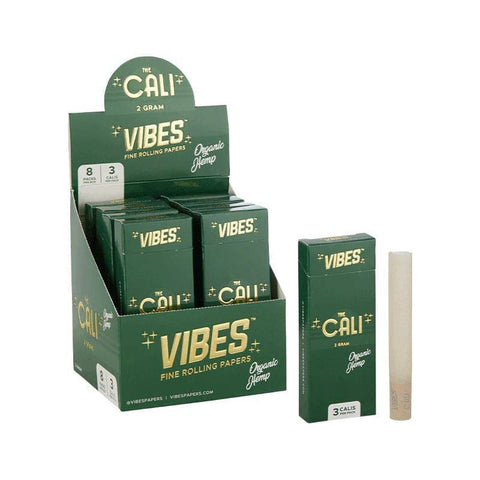 VIBES CALI ORGANIC HEMP PRE ROLLED 2-GRAM CONE (3-PACK) 8CT BOX
Prepare to indulge in the ultimate smoking experience with the Cali by VIBES™, the brainchild of renowned Bay Area rapper and entrepreneur, Berner.

Experience intimacy like never before with the Cali by VIBES™, meticulously designed to emulate Berner's signature rolling style. These pre-rolls are crafted with attention to detail, featuring a cylindrical tube with a wide circumference that guarantees optimal airflow, comfortable pulls, and an immersive big-smoke experience that will leave you craving more.

The tips of the Cali pre-rolls are specially developed to provide stability while filling up the pre-roll, ensuring a seamless smoking experience. They also act as effective filters, removing any unwanted particles and delivering pure, smooth hits every time. Each Cali has an impressive 2-gram capacity, allowing you to enjoy extended sessions filled with exceptional flavor and satisfaction.

Embrace the convenience and quality of the Cali by VIBES™ with our special offer. Each box contains 8 packs, and each pack includes 3 Calis, giving you a total of 24 Vibes Cali 2 Gram Cones to elevate your smoking game.

Don't miss out on this exclusive opportunity to experience Berner's most intimate pre-rolls yet. Shop now at Vape City USA and discover the unparalleled pleasure of the Cali by VIBES™, your ticket to an extraordinary smoking journey.
Product Details:
2G Capacity 
Wide, Cylindrical Shape
Optimal Airflow
Big-Smoke Experience
Easy-To-Pack Design
4 Blends Available
Cultivated In France
Hand-Rolled In Dominican Republic
Acacia Gum
Package Includes:
1x Vibes Cali Organic Hemp Pre Rolled 2-Gram Cone (3-Pack) 8ct Box