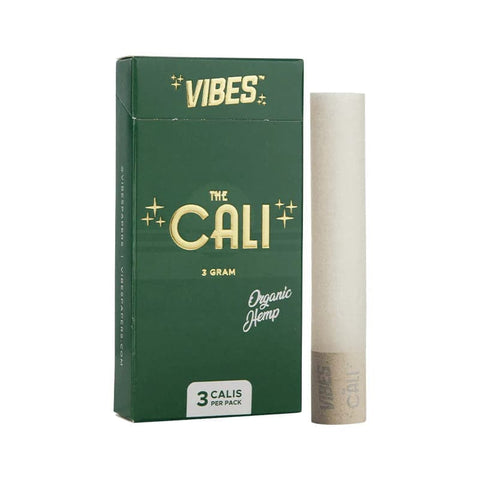 VIBES CALI ORGANIC HEMP PRE ROLLED 2-GRAM CONE 3-PACK
We are excited to introduce you to the Cali by VIBES™, the most intimate pre-rolls curated by entrepreneur and renowned Bay Area rapper, Berner. Designed to mimic Berner's signature rolling style, the Cali pre-rolls are all about the details, delivering an extraordinary smoking experience like no other.

With a cylindrical pre-roll tube boasting a wide circumference, the Cali ensures optimal airflow, comfortable pulls, and an indulgent big-smoke experience. Each detail is carefully crafted to enhance your enjoyment, from the stability of the tips that make filling up the pre-roll effortless, to their ability to filter out any unwanted particles. Say hello to a seamless and refined smoking experience.

Embrace the Cali's 2G capacity, allowing you to enjoy an extended smoking session without interruption. Each package includes 3 Calis, ensuring you have ample supply to savor those moments of pure bliss.

Discover the art of premium smoking with the Cali by VIBES™, available exclusively at Vape City USA. Elevate your smoking experience with a touch of sophistication. Shop now and unlock a world of pleasure that will leave you wanting more.



Product Details:
2G Capacity 
Wide, Cylindrical Shape
Optimal Airflow
Big-Smoke Experience
Easy-To-Pack Design
4 Blends Available
Cultivated In France
Hand-Rolled In Dominican Republic
Acacia Gum
Package Includes:
1x Vibes Cali Organic Hemp Pre Rolled 2-Gram Cone 3-Pack