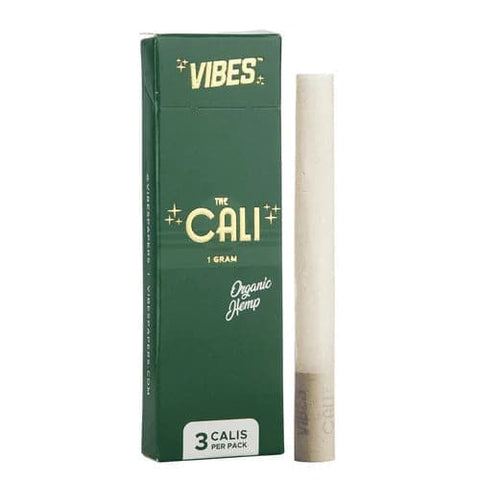 VIBES CALI ORGANIC HEMP PRE ROLLED 1-GRAM CONE (3-PACK) 8CT BOX
Discover the pinnacle of pre-roll perfection with the Cali by VIBES™, an exclusive offering brought to you by the visionary entrepreneur and influential Bay Area rapper, Berner. Prepare to indulge in the most intimate pre-roll experience yet, meticulously crafted to mimic Berner's signature rolling style.

Designed with meticulous attention to detail, the Cali features a cylindrical pre-roll tube with a wide circumference, guaranteeing optimal airflow and comfortable pulls. Experience the satisfaction of a big-smoke experience with every session, as the Cali delivers a truly exceptional smoking sensation.

The tips of the Cali are specially developed to provide stability during the filling process, ensuring a seamless and enjoyable rolling experience. Not only do they contribute to the structural integrity of the pre-roll, but they also act as filters, effectively eliminating any unwanted particles. Each Cali offers a generous 1G capacity, allowing you to savor every moment of your smoke session.

At Vape City USA, your premier online vaping store near you, we bring you the convenience and luxury of the Cali by VIBES™. Each box contains 8 packs, with 3 Calis per pack, totaling an impressive 24 Vibes Cali 1 Gram Cones. Elevate your smoking experience to new heights and enjoy the ultimate pre-roll satisfaction with Vape City USA.

Unlock the essence of Berner's rolling expertise and embrace the Cali by VIBES™. Shop now and experience the perfect harmony of craftsmanship, quality, and performance, all delivered straight to your doorstep.
Product Details:
1G Capacity 
Wide, Cylindrical Shape
Optimal Airflow
Big-Smoke Experience
Easy-To-Pack Design
4 Blends Available
Cultivated In France
Hand-Rolled In Dominican Republic
Acacia Gum
Package Includes:
1x Vibes Cali Organic Hemp Pre Rolled 1-Gram Cone (3-Pack) 8ct Box