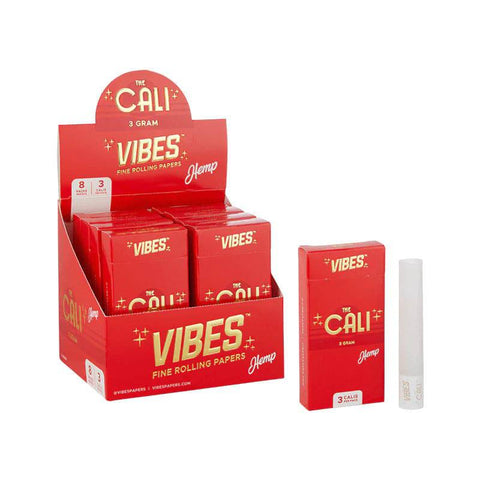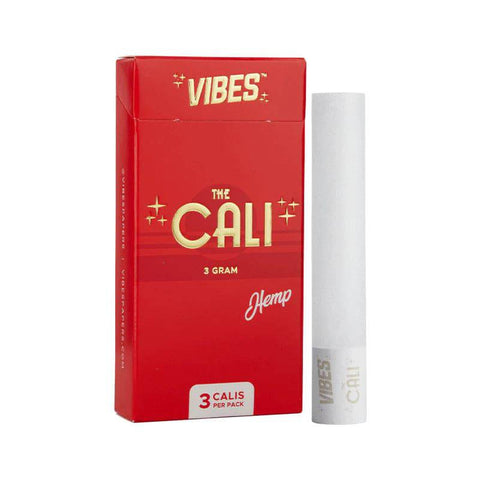 VIBES CALI HEMP PRE ROLLED 3-GRAM CONE (3-PACK) 8CT BOX
We're thrilled to introduce the highly anticipated Cali by VIBES™, brought to you by none other than the influential Bay Area rapper and entrepreneur, Berner. Get ready to experience pre-rolls like never before, as the Cali embodies Berner's signature rolling style and attention to detail.

Designed with precision, the Cali features a cylindrical pre-roll tube with a wide circumference, ensuring optimal airflow and comfortable pulls with each puff. Immerse yourself in a big-smoke experience that truly captures the essence of Berner's rolling expertise. But that's not all—the tips of the Cali are specially crafted to provide stability during filling and act as effective filters, eliminating any unwanted particles for a smooth and enjoyable smoking session.

Each Cali boasts an impressive 3G capacity, allowing you to fully indulge in your favorite herbs or blends. With 8 packs per box and 3 Calis per pack, you'll have a total of 24 Vibes Cali 3 Gram Cones at your disposal. Elevate your smoking experience to new heights with the precision, craftsmanship, and attention to detail that only VIBES™ can deliver.

Experience the pinnacle of pre-rolls with the Cali by VIBES™, available exclusively at Vape City USA. Unlock a world of smoking pleasure and immerse yourself in the artistry of Berner. Shop now and enjoy the ultimate vaping and smoking experience, right at your fingertips.
Product Details:
3G Capacity 
Wide, Cylindrical Shape
Optimal Airflow
Big-Smoke Experience
Easy-To-Pack Design
4 Blends Available
Cultivated In France
Hand-Rolled In Dominican Republic
Acacia Gum
Package Includes:
1x Vibes Cali Hemp Pre Rolled 3-Gram Cone (3-Pack) 8ct Box