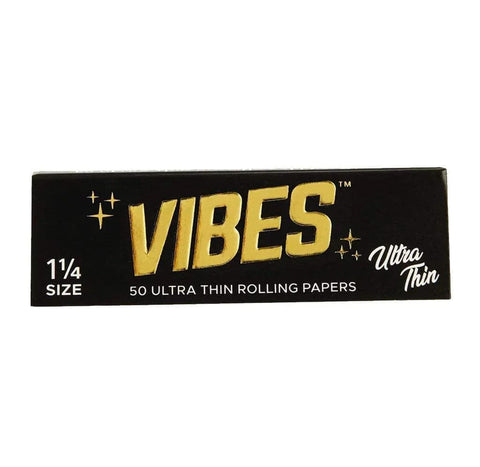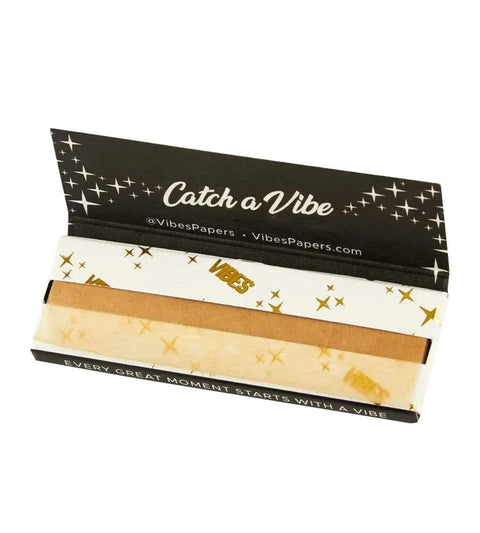 VIBES 1 1/4 ULTRA THIN ROLLING PAPERS PACK
Step into the world of iconic Bay Area rap legend Berner and experience the greatness of Vibes™ Rolling Papers. As Berner expands his empire, he brings you a premium smoking experience with these exceptional papers.

Crafted with care in France, Vibes Rolling Papers feature natural hemp or rice, ensuring a smooth and consistent smoke every time. With their ultra-thin construction, these papers burn slowly, allowing you to savor the flavors of your dry herb to the fullest. No more worries about overpowering "paper smoke" interfering with your favorite strains' natural essence.

Measuring at the standard 1.25" length, Vibes Rolling Papers are designed to perfectly wrap around a half gram of dry herb. This optimal size ensures a well-balanced and enjoyable smoking experience, allowing you to appreciate the flavors and aromas of your chosen herb.

At Vape City USA, we take pride in offering the finest selection of smoking essentials, including the renowned Vibes Rolling Papers. Elevate your smoking game with these premium papers and enjoy the true essence of your dry herb. Experience the difference and join the Vibes revolution today.

Shop now and indulge in the extraordinary flavors and superior quality of Vibes™ Rolling Papers, available exclusively at Vape City USA, your trusted online vaping store near you.


Product Details:
50x 1.25" Vibes Rolling Papers
Natural Paper
Cultivated and Crafted in France
Cut and Kitted in the Dominican Republic
Slow & Even Burning
Standard 1.25" Length
Package Includes:
1x Vibes 1 1/4 Ultra Thin Rolling Papers Pack