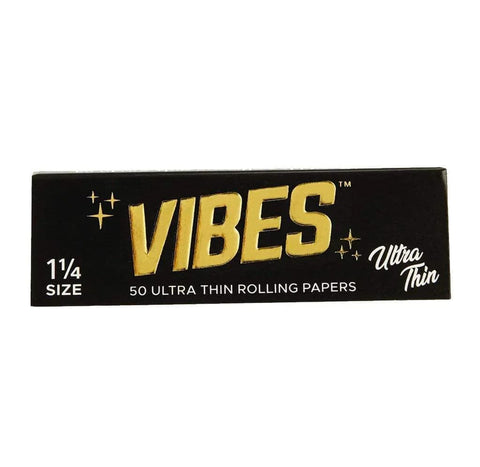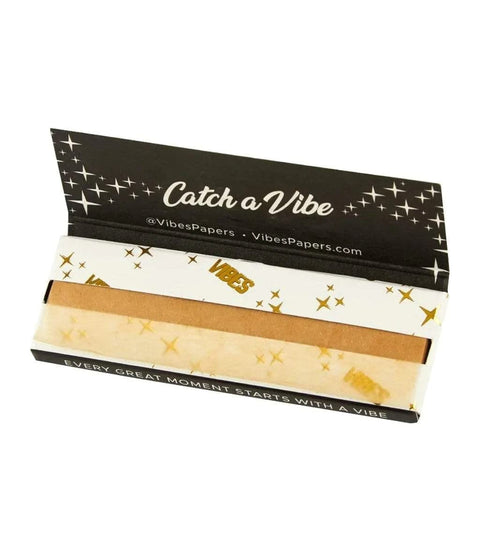 VIBES 1 1/4 ULTRA THIN ROLLING PAPERS 50CT BOX
Experience the ultimate convenience and value with the Vibes Papers Box - 1.25". This incredible bundle features 50 booklets of the highly coveted Rice or Ultra Thin Vibes Rolling Papers, giving you a staggering total of 2,500 rolling papers.

Indulge in longer and more satisfying sessions with Vibes Rice Rolling Papers. Crafted from premium rice paper, these papers burn slower compared to hemp papers, allowing you to extend your smoking experience. With every puff, the true flavors of your dry herb are unleashed, thanks to the thin and refined nature of Vibes Rolling Papers.

At Vape City USA, we are dedicated to providing exceptional products and service. With the Vibes Papers Box - 1.25", you're not only investing in quantity but also in quality. Elevate your smoking game to new heights with these premium rolling papers, meticulously designed to enhance your enjoyment.

Unlock the possibilities and enjoy an unmatched smoking experience with Vibes Papers Box - 1.25". Discover the true essence of convenience, quality, and value at Vape City USA, your trusted online vaping store. Shop now and savor every moment with the finest rolling papers on the market.
Product Details:
50x 1.25" Vibes Rolling Papers
Natural Paper
Cultivated and Crafted in France
Cut and Kitted in the Dominican Republic
Slow & Even Burning
Standard 1.25" Length
Package Includes:
1x Vibes 1 1/4 Rice Rolling Papers 50ct Box