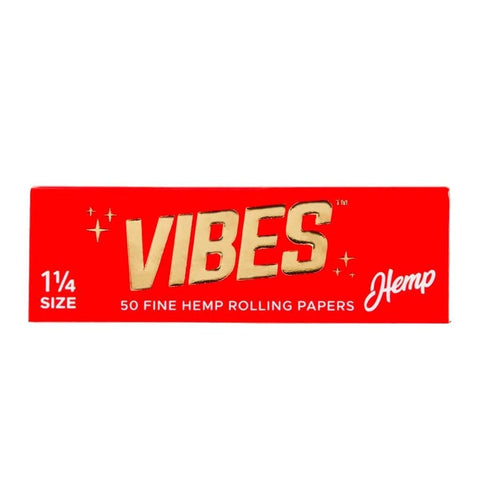 VIBES 1 1/4 HEMP ROLLING PAPERS PACK
Join the movement started by Bay Area rap legend, Berner, as he expands his empire with Vibes™ Rolling Papers. Elevate your smoking experience with these extraordinary papers, crafted with natural hemp or rice, ensuring ample and consistent smoke for an unparalleled session.

Experience the epitome of quality as Vibes Rolling Papers are cultivated and crafted in France, guaranteeing a premium smoking experience. Their ultra-thin construction allows for a slow and controlled burn, preserving the flavor of your dry herb. With Vibes Rolling Papers, your herb's natural taste takes center stage, as it won't be overshadowed by excessive "paper smoke".

Discover the standard 1.25" length papers, perfect for accommodating up to half a gram of dry herb. With Vibes Rolling Papers, you can indulge in a flawless smoke that delivers the ultimate flavor and satisfaction.

Unlock the next level of smoking excellence with Vibes Rolling Papers, available exclusively at Vape City USA. Experience the difference and enhance your smoking rituals. Shop now and enjoy the finest selection of vaping products and accessories, backed by our commitment to exceptional customer service.


Product Details:
50x 1.25" Vibes Rolling Papers
Natural Paper
Cultivated and Crafted in France
Cut and Kitted in the Dominican Republic
Slow & Even Burning
Standard 1.25" Length
Package Includes:
1x Vibes 1 1/4 Hemp Rolling Papers Pack