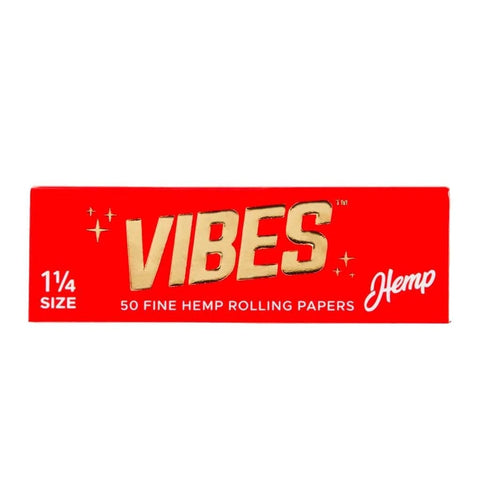 VIBES 1 1/4 HEMP ROLLING PAPERS 50CT BOX
Welcome to Vape City USA, your trusted online vaping store near you, where we bring you the ultimate rolling experience with the Vibes Papers Box - 1.25". Get ready to elevate your sessions with this incredible bundle that includes 50 booklets of Rice or Ultra Thin Vibes Rolling Papers. With each booklet containing 50 papers, you'll have a whopping total of 2,500 rolling papers at your disposal.

Experience the classic feel of Vibes Hemp Rolling Papers, meticulously crafted to enhance your smoking pleasure. Made from natural hemp paper, these rolling papers strike the perfect balance, allowing your material's true flavor to shine through. Enjoy a slow and even burn, ensuring a comprehensive session that will leave you satisfied.

At Vape City USA, we pride ourselves on delivering the best selection of products to meet your vaping needs. With the Vibes Papers Box - 1.25", you'll have an ample supply of high-quality rolling papers to enjoy countless sessions. We strive to provide unbeatable value and exceptional customer service, ensuring your satisfaction with every purchase.

Take your smoking experience to new heights with the Vibes Papers Box - 1.25". Shop now and discover the perfect companion for your next smoke session at Vape City USA, your go-to online vaping store.
Product Details:
50x 1.25" Vibes Rolling Papers
Natural Paper
Cultivated and Crafted in France
Cut and Kitted in the Dominican Republic
Slow & Even Burning
Standard 1.25" Length
Package Includes:
1x Vibes 1 1/4 Hemp Rolling Papers 50ct Box