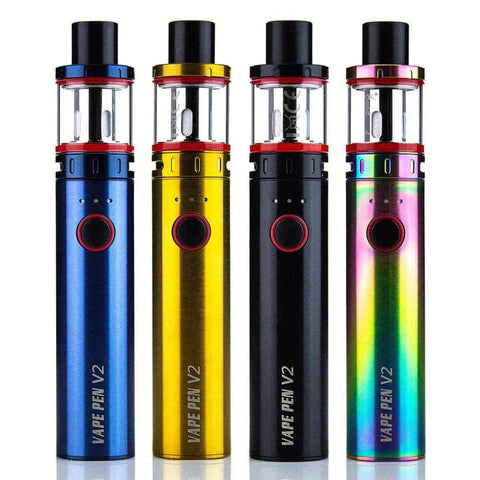 SMOK VAPE PEN V2 KIT
Designed with an all-in-one chassis, the SMOK Vape Pen V2 Kit showcases a sleek and durable zinc-alloy construction. Within its compact frame lies an integrated 1600mAh battery, ensuring long-lasting vaping sessions without the need for constant recharging. Say goodbye to the inconvenience of carrying extra batteries and enjoy uninterrupted vaping pleasure.

With a generous 3mL tank capacity, the Vape Pen V2 is ready to satisfy your cravings. Whether you prefer your favorite e-juices or nicotine salt e-liquids, this kit guarantees flavorful vapor production that will leave you craving for more. Thanks to the Vape Pen V2 meshed coil technology, you'll experience optimal heating with minimal power consumption. This means extended battery life for prolonged vaping sessions and less time worrying about recharging.

Convenience is key, and that's why the SMOK Vape Pen V2 Kit is designed with your on-the-go lifestyle in mind. Rechargeable via a micro USB port, this kit is perfect for vapers who are constantly on the move or simply prefer a portable vaping solution. Don't compromise on performance when you can have it all with the SMOK Vape Pen V2 Kit from Vape City USA.

Shop now and elevate your vaping experience to new heights with the SMOK Vape Pen V2 Kit. Trust in Vape City USA to provide you with top-quality products, exceptional customer service, and the ultimate satisfaction in every vape.
Device Details:

All-In-One Design

Dimensions - 117.7mm by 22mm

Integrated 1600mAh Battery

Max. Wattage Output: 60W

Voltage Output Range: 3.0-4.0V

Resistance Range: 0.14-3.0ohm

Zinc-Alloy Chassis Construction

Single Firing Button

3 LED Indicator Lights

Threaded Top Fill Cap

0.15ohm Vape Pen Meshed Coil

Dual Slotted Airflow Control Ring

Lithium Battery Protection

Atomizer Detection

8S Cut-Off Protection

Short-Circuit Protection

Low Voltage Protection

MicroUSB Port

Available in Red, Stainless Steel, Black, 7-Color, Gold, Blue, Gunmetal
Package Includes: