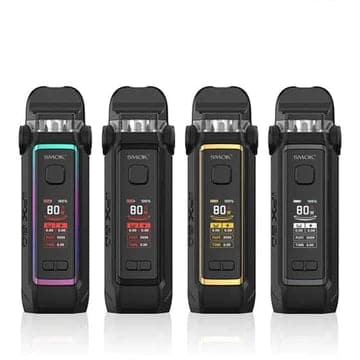 SMOK IPX 80 Kit
Introducing the SMOK IPX 80 Pod Vape Kit - the epitome of reliability and durability. Engineered with an IP67 waterproof and dustproof design, this vape device is ready to conquer any adventure while delivering a maximum output of 80W for a truly versatile vaping experience. If you crave a robust and resilient vape mod, look no further!

Feast your eyes on the impressive display that adorns the SMOK IPX 80, providing you with a clear and comprehensive view of all essential information. With a wide array of coil options available, this kit caters to every e-liquid preference you may have, ensuring an exceptional vaping journey.

Step into the world of endless possibilities as the SMOK IPX 80 kit comes equipped with two RPM coils. Unleash the power of the 0.16ohm RPM 2 Mesh coil, designed specifically for freebase e-liquids, and savor its optimal performance at 40W. For a mouth-to-lung vaping experience with freebase and salt nicotine e-liquids, embrace the 0.6ohm RPM 2 DC Coil included in this kit, offering the perfect balance between 12W and 25W.

Never compromise on convenience with the SMOK IPX 80's rapid charging capabilities through its type-C cable. Experience minimal downtime and maximum satisfaction as you delve into the world of sensational vaping.

At Vape City USA, we don't just offer the SMOK IPX 80 Pod Vape Kit. Explore our extensive collection of starter kits, mods, e-juices, and vape accessories sourced from premium and authentic brands. Discover irresistible deals on e-juices, vaporizers, and essential vape accessories, all while enjoying our top-notch customer service that exceeds expectations.

Unleash the power of the SMOK IPX 80 and redefine your vaping journey. Shop now at Vape City USA, your ultimate destination for extraordinary vaping experiences.
Device Features:
IP67 Waterproof, Dustproof & Shock Resistant

Air Inlet Ring; Adjustable Airflow Control

Juice Level Window

Flat "Duck-Billed" Mouthpiece for optimal flavor

Silicone Spliced Design

0.001s Firing Speed

Multiple Protections: Lithium Battery Protection, Atomizer Detection, 8 Second Cutoff, Short Circuit Protection, Low Voltage Protection

IPX 80 RPM Pod Available (Sold Separately)

Dimensions:

 107mm x 34.8mm x 34.5mm

Weight:

 130g

Eliquid Capacity:

 5.5ml

Battery:

 3000mAh Built-In Battery

Wattage Output:

 1W - 80W

Resistance Range:

 0.15 ohm - 3.00 ohm

Screen: 0.96" Color Screen

Recommended VG/PG Ratio: 70% VG

 
Package Contents:
1x SMOK IPX 80 Kit Device (3000mAh)
1 x

 

SMOK

 Nord 4 

RPM 2 Pod (RPM 2 Mesh 0.16Ω Coil)
1 x

 

SMOK

 Nord 4 

RPM Pod (RPM 2 DC 0.6Ω Coil)
1 x IPX 80 RPM 2Pod (5.5ml)
1 x Type-C Cable
1 x User Manual