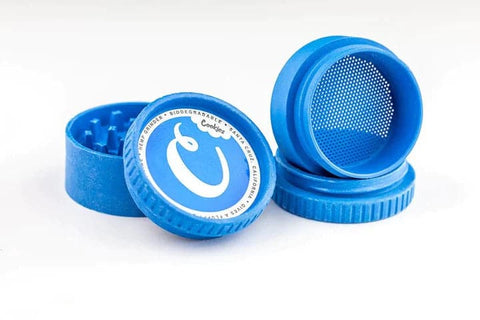 SANTA CRUZ SHREDDER X COOKIES MEDIUM 4-PIECE HEMP GRINDER
Introducing the remarkable collaboration between Santa Cruz Shredder and the esteemed cannabis brand Cookies, presenting the cutting-edge biodegradable hemp herb SHREDDER. Prepare to be blown away by the pinnacle of herb Shredder technology, now exquisitely enhanced with a touch of exclusivity.
Experience a new era of herb Shredding as every aspect of the SHREDDER has been meticulously examined and elevated. Witness the revolutionary metal tooth design and intricate threading pattern, meticulously engineered to deliver unparalleled shredding precision. To ensure effortless functionality, the lid closure system incorporates a rare earth magnet, ensuring a secure and seamless operation.
Not only does the SHREDDER boast groundbreaking technology, but it also prioritizes environmental sustainability. Crafted from biodegradable hemp, this herb Shredder demonstrates a commitment to a greener future without compromising on performance or durability.
At Vape City USA, we understand the importance of staying ahead of the curve. That's why we offer this exclusive collaboration between
Santa Cruz Shredder
and Cookies, empowering you to elevate your herb shredding experience to unprecedented heights. Discover the SHREDDER and unlock a world of finely shredded herbs that will transform your vaping or smoking sessions.
Product Details:
Biodegradable Hemp Grinder


Made from natural Hemp


Extremely durable and long-lasting


Fluffy, even grind every time

4-Piece Design
Available in several colors
Package Includes:
1x Santa Cruz Shredder x Cookies Medium 4-Piece Hemp Grinder