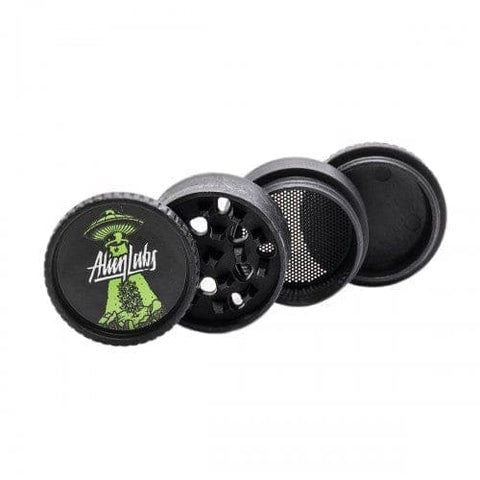 SANTA CRUZ SHREDDER X ALIEN LABS MEDIUM 4-PIECE HEMP GRINDER
Introducing the game-changing
Alien Labs x Santa Cruz Shredder Biodegradable Hemp Herb Shredder
- a true marvel of herb shredding technology. This exclusive collaboration combines the expertise of two legendary names in the cannabis industry, delivering an unparalleled shredding experience that will leave you astounded.
Prepare to be amazed by the meticulous craftsmanship and innovative design of this extraordinary herb shredder. Santa Cruz Shredder has taken every aspect into consideration, leaving no stone unturned in the pursuit of perfection. The result is a shredder that not only outperforms its competitors but also boasts an eye-catching aesthetic that is second to none.
Experience the power of the revolutionary metal tooth design and threading pattern, meticulously engineered to effortlessly shred your herbs to perfection. No more struggling or wasting time with subpar shredders - the Alien Labs x Santa Cruz Shredder ensures a consistent, fluffy grind every time.
Embrace sustainability without compromising performance, as this exceptional shredder is crafted from biodegradable hemp material. Not only does it prioritize the environment, but it also offers a unique texture and feel that adds to the overall shredding experience.
The lid closure system of the Alien Labs x Santa Cruz Shredder is nothing short of extraordinary. Equipped with a rare earth magnet, it guarantees a secure closure, keeping your herbs fresh and secure during transport. No more spills or messes - just peace of mind and convenience.
Vape City USA is proud to bring you this exclusive collaboration between Alien Labs and
Santa Cruz Shredder
. Elevate your herb shredding game to new heights with this remarkable piece of artistry and innovation. Don't settle for anything less than perfection when it comes to shredding your herbs. Shop now and unlock a world of precision, efficiency, and style with the Alien Labs x Santa Cruz Shredder Biodegradable Hemp Herb Shredder.
Product Details:
Biodegradable Hemp Grinder


Made from natural Hemp


Extremely durable and long-lasting


Fluffy, even grind every time

4-Piece Design
Available in several colors
Package Includes:
1x Santa Cruz Shredder x Alien Labs Medium 4-Piece Hemp Grinder