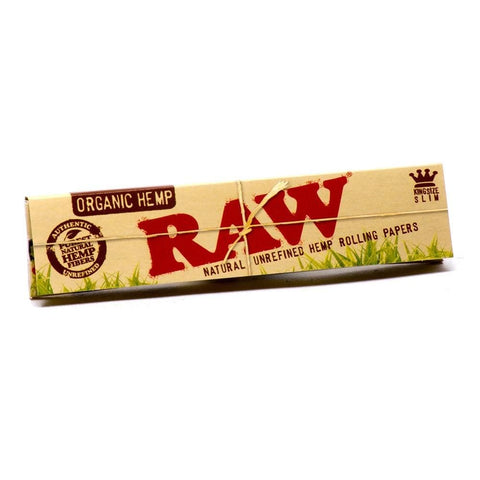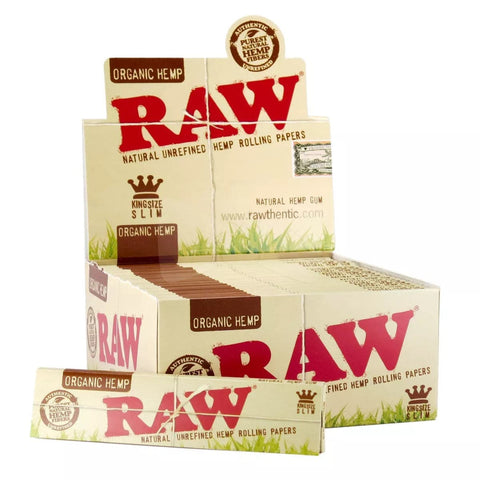 RAW ORGANIC HEMP KING SIZE SLIM ROLLING PAPERS PACK
Experience the unrivaled RAW King Size Slim Organic Hemp rolling papers, revolutionizing your smoking rituals. Immerse yourself in the world of eco-conscious luxury with these meticulously crafted papers, made from organically grown hemp and free from harmful chlorine.

Indulge your senses with the sheer elegance of RAW papers, delicately thin and transparent, offering you a unique visual experience with every roll. Witness the exceptional craftsmanship firsthand as you appreciate the captivating beauty of these translucent sheets.

Designed with precision, each RAW paper features a distinctive watermark, masterfully engineered to prevent unsightly runs and ensure an impeccably even burn. Immerse yourself in the unparalleled satisfaction of a smooth, flawless smoking session that only RAW can deliver.

At Vape City USA, we take pride in curating the finest smoking essentials for our discerning customers. Explore our wide range of RAW products and discover a world of premium craftsmanship and innovative design. Elevate your smoking experience to new heights with RAW King Size Slim Organic Hemp rolling papers.

Product Details:

Size: 110mm - King Size Slim
50 leaves per box
Brand: RAW
Type:

 

Organic Hemp King Size Slim Rolling Papers 
Packaging Contents:  
1x Raw Organic Hemp King Size Slim Rolling Papers Pack