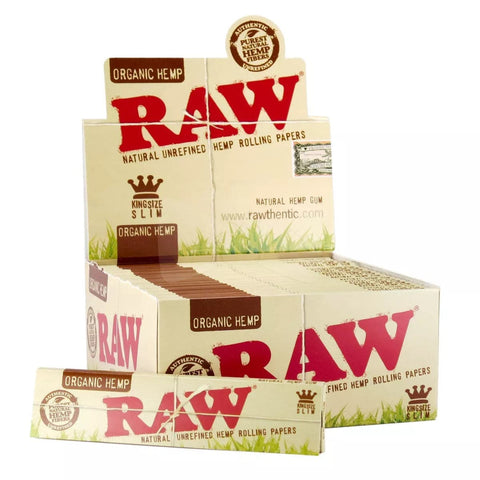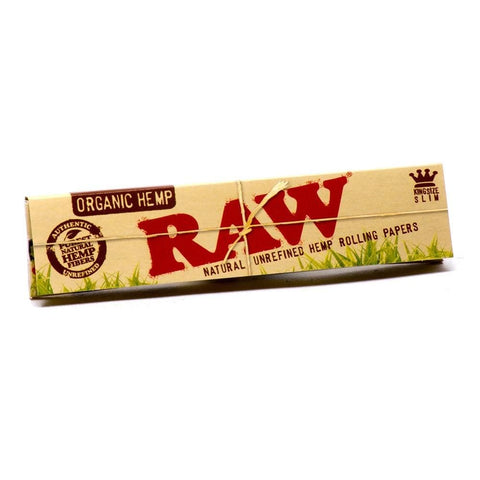 RAW ORGANIC HEMP KING SIZE SLIM ROLLING PAPERS 50CT BOX
Experience the revolution of rolling papers with our remarkable RAW King Size Slim Organic Hemp. These papers are more than just a smoking accessory – they embody a commitment to purity, sustainability, and unmatched quality. Crafted from organically grown hemp, these Eco-friendly and chlorine-free papers are the epitome of a conscious choice.

Indulge in a truly transparent experience as our RAW papers are delicately thin, allowing you to see right through them. This exceptional feature adds an element of fascination to your rolling ritual, as you witness the precision and artistry of each roll.

Say goodbye to frustrating runs and uneven burns, thanks to RAW's ingenious watermark. Meticulously incorporated into every paper, this thoughtfully designed feature ensures a smooth, consistent burn that RAW has become renowned for. Revel in the pleasure of uninterrupted sessions, knowing that each roll is a masterpiece in its own right.

At Vape City USA, we take pride in offering you the very best. Explore our collection of RAW King Size Slim Organic Hemp rolling papers and discover a new level of satisfaction. Elevate your smoking experience with the perfect blend of purity, craftsmanship, and sustainability. Embrace the RAW revolution today.


Product Details:

Size: 110mm - King Size Slim
50 units per box
Brand: RAW
Type:

 

Organic Hemp King Size Slim Rolling Papers 
Packaging Contents:  
1x Raw Organic Hemp King Size Slim Rolling Papers 50ct Box