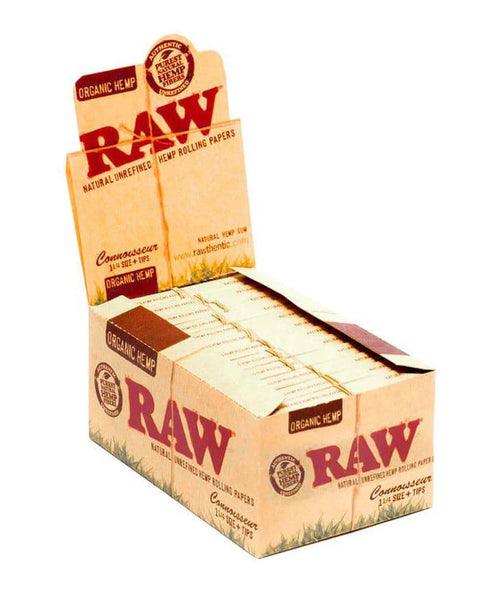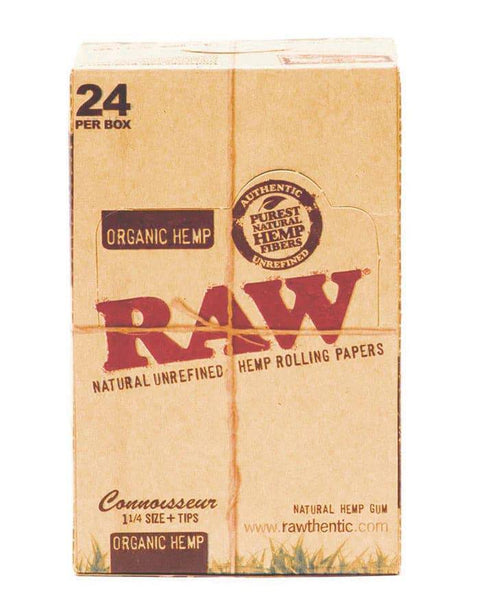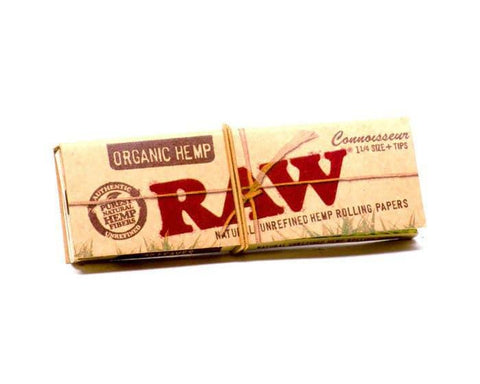 RAW ORGANIC HEMP CONNOISSEUR 1 1/4 + TIPS 24CT BOX
Experience the next level of organic smoking pleasure with RAW Organic Hemp Connoisseur 1 1/4 Rolling Paper with tips. Prepare to embark on a revolutionary smoking journey unlike any other. These ultra-thin rolling papers redefine what it means to indulge in an organic smoke, elevating your smoking experience to new heights.

Crafted with the utmost precision, the RAW Organic Hemp Connoisseur 1 1/4 Rolling Papers are exceptionally thin, allowing you to see right through them. Immerse yourself in the purest smoking sensation as you savor the rich flavors of your preferred herbs or tobacco. Made from 100% vegan and chemical-free materials, these rolling papers ensure a clean, natural smoke that enhances your enjoyment without any unwanted additives.

To further enhance your smoking experience, RAW introduces their ingeniously designed watermark. Bid farewell to frustrating runs and uneven burns as this distinctive feature guarantees a smoother and more controlled smoke. Enjoy a slow burn that lets you relish each moment, indulging in the true essence of your chosen smoking blend.

At Vape City USA, we take pride in offering the finest smoking accessories to elevate your lifestyle. Discover the RAW Organic Hemp Connoisseur 1 1/4 Rolling Paper with tips, a game-changer in the world of organic smoking. Unlock the secrets of a satisfying and fulfilling smoke with RAW's commitment to quality and innovation.

Immerse yourself in the unparalleled pleasure of RAW's organic rolling papers, now available at Vape City USA. Explore our wide selection of premium smoking accessories, and enjoy a seamless online shopping experience. Elevate your smoking ritual and ignite your senses with Vape City USA, your ultimate destination for all things smoke-related.
Product Details:  
Size: 83mm - 1 1/4
24 packs per box
50 leaves per pack
Brand: RAW
Type: RAW

 Organic Hemp 

Connoisseur 1 1/4 Rolling Papers + Tips 
*THIS ITEM IS INTENDED FOR TOBACCO USE ONLY*
Packaging Contents:  
1x Raw Organic Hemp Connoisseur 1 1/4 + Tips 24ct Box