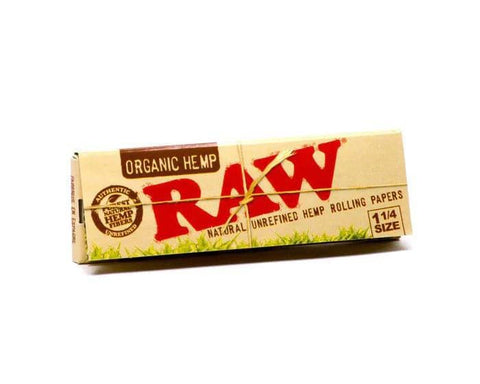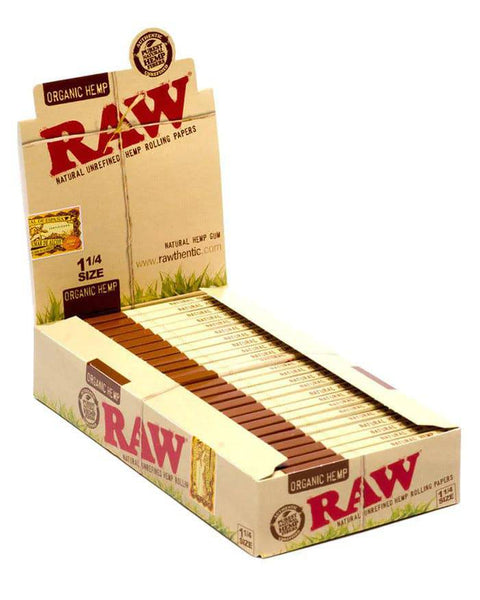 RAW ORGANIC HEMP 1 1/4 ROLLING PAPERS PACK
Experience the next level of rolling perfection with our revolutionary RAW 1 1/4 Organic Hemp rolling papers. Crafted with utmost care, these papers are a testament to sustainability, as they are made from organically grown hemp and are completely Eco-friendly and chlorine-free.

Prepare to be amazed as these papers are delicately thin, allowing you to see through them, ensuring a truly immersive and transparent rolling experience. With every roll, you'll appreciate the impeccable craftsmanship that goes into creating RAW papers.

Designed to enhance your smoking pleasure, each paper features RAW's distinctive watermark, strategically placed to prevent runs and ensure a consistently smooth and even burn. Say goodbye to uneven burning and hello to the unrivaled quality that RAW is renowned for.

At Vape City USA, we're dedicated to bringing you the finest smoking accessories, and our RAW 1 1/4 Organic Hemp rolling papers are no exception. Immerse yourself in a world of superior rolling satisfaction with these premium papers.

Embrace sustainability, transparency, and unparalleled smoking pleasure with RAW 1 1/4 Organic Hemp rolling papers. Shop now and discover a new level of excellence at Vape City USA, your ultimate destination for all your smoking needs.

Product Details:

Size: 83mm - 1 1/4
Brand: RAW
Type:

 

Organic Hemp 1 1/4 Rolling Papers 
Packaging Contents:  
1x RAW Organic Hemp 1 1/4 Rolling Papers Pack