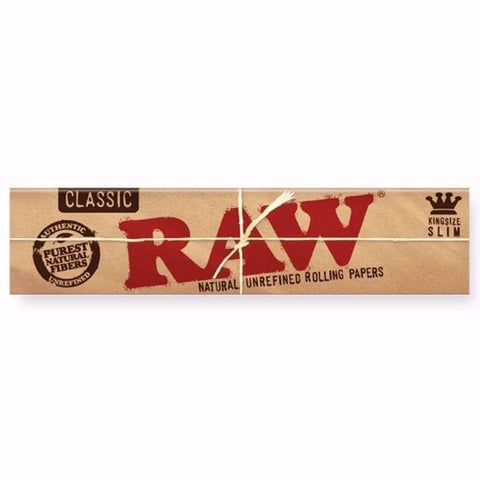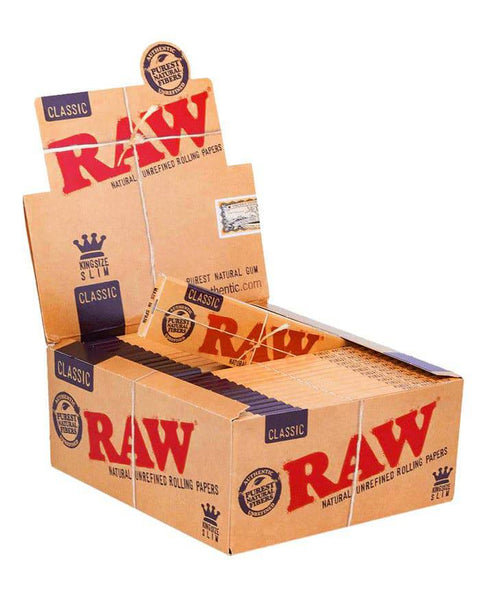 RAW CLASSIC KING SIZE SLIM ROLLING PAPERS PACK
Experience the superior quality of RAW Classic King Size Slim Rolling Papers, meticulously crafted to enhance your smoking pleasure. These 110mm-long papers are a testament to RAW's commitment to excellence, utilizing a unique CrissCross blend of unbleached, natural fibers. With a natural vegan gum derived from sustainably harvested Acacia tree sap, these papers embody the essence of eco-consciousness.

Organic Excellence: RAW rolling papers take pride in their dedication to organic integrity. Made with unbleached, natural fibers, these rolling papers are the perfect choice for those who value a natural smoking experience. Every puff is a conscious choice towards a more sustainable and mindful lifestyle.

Unparalleled Transparency: RAW's King Size Slim papers are so thin that their natural brown hue becomes translucent, captivating the eye and igniting curiosity. Embrace the elegance of these ultra-thin papers that redefine the art of rolling. With RAW, each session becomes a visual feast for both the eye and the mind.

Uncompromised Purity: RAW rolling papers are thoughtfully designed to be less processed than their counterparts, ensuring a pure and additive-free smoking experience. Embrace the simplicity and authenticity of RAW, knowing that every roll is a testament to your commitment to a natural, unadulterated smoking ritual.

Indulge in the unmatched quality of RAW Classic King Size Slim Rolling Papers. Elevate your smoking experience and join the growing community of natural-minded smokers. At Vape City USA, we offer an extensive selection of premium smoking essentials and accessories. Shop now and discover the true essence of RAW, where organic meets extraordinary.
Product Details:  
Size: 110mm - King Size Slim
50 leaves per pack
Brand: RAW
Type: RAW Classic King Size Slim Rolling Papers
*THIS ITEM IS INTENDED FOR TOBACCO USE ONLY*
Packaging Contents:  
1x RAW Classic King Size Slim Rolling Papers Pack