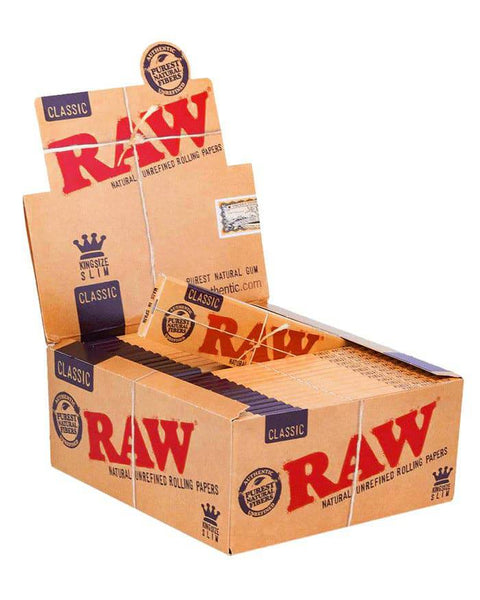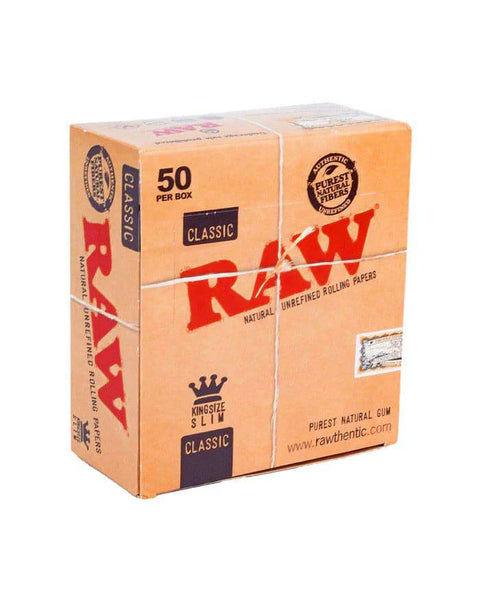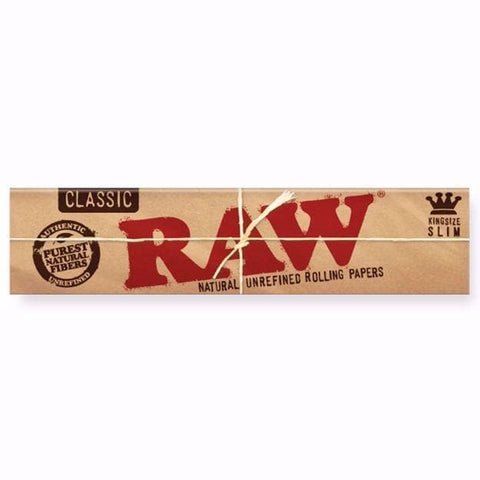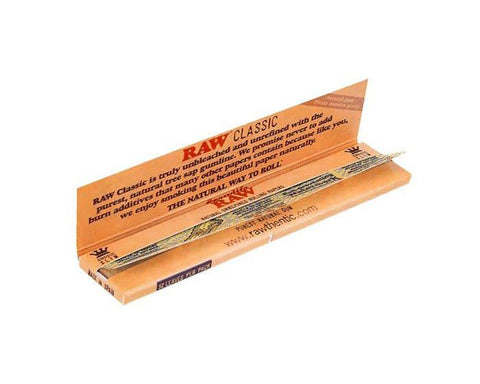 RAW CLASSIC KING SIZE SLIM ROLLING PAPERS 50CT BOX
Experience the exceptional quality of RAW Classic King Size Slim Rolling Papers, measuring 110mm in length. Crafted from a unique blend of unbleached, natural fibers in a proprietary CrissCross pattern, these papers are a testament to our commitment to organic smoking products. With a vegan gum derived from sustainably harvested Acacia tree sap, RAW ensures a truly eco-conscious choice for the nature-minded smoker.

Indulge in the allure of RAW's Classic King Size Slim, meticulously crafted to be ultra-thin, allowing the natural brown hue to shine through. Not only are these rolling papers a delight for the eyes, but they also deliver an unparalleled smoking experience. RAW's dedication to additive-free products shines through, as these rolling papers undergo minimal processing compared to others in the market.

Choose RAW rolling papers and embrace a more conscious approach to your smoking ritual. With their natural composition and commitment to sustainability, RAW empowers you to make a positive impact on your smoking experience and the environment.

At Vape City USA, we bring you the finest selection of smoking essentials. Explore our wide range of products, including RAW Classic King Size Slim Rolling Papers, and elevate your smoking journey. Enjoy the satisfaction of knowing you're choosing a brand that values purity, sustainability, and a truly authentic smoking experience. Shop now and discover a new level of smoking pleasure with Vape City USA.
Product Details:  
Size: 110mm - King Size Slim
50 packs per box
50 leaves per pack
Brand: RAW
Type: RAW Classic King Size Slim Rolling Papers
*THIS ITEM IS INTENDED FOR TOBACCO USE ONLY*
Packaging Contents:  
1x RAW Classic King Size Slim Rolling Papers 50ct Box