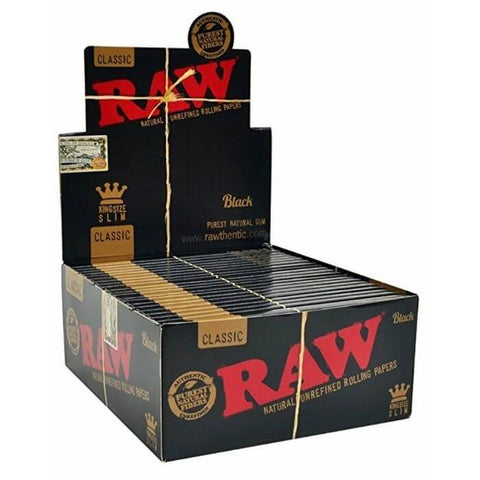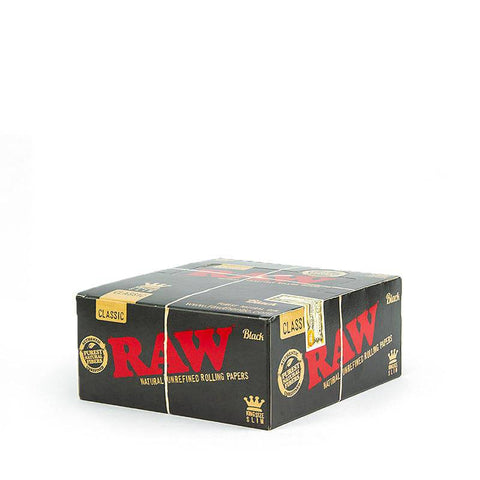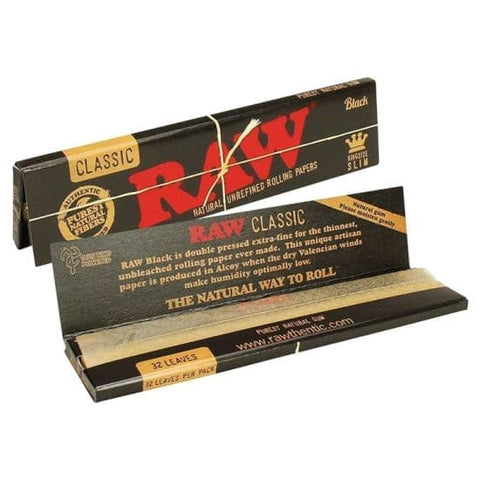 RAW CLASSIC BLACK KING SIZE SLIM ROLLING PAPERS 50CT BOX
Experience the epitome of luxury smoking with RAW Black rolling papers, meticulously crafted for the discerning connoisseur who craves an extended smoke session. Delve into a world of unparalleled sophistication as you ignite these artisan papers, painstakingly manufactured in the esteemed Alcoy region of Spain, where the Valencian winds create an ideal low-humidity environment.

Indulge your senses in an extraordinary smoking experience with RAW Black's ultra-thin design, allowing you to fully savor the rich flavors of your terpenes. Each delicate puff unveils a symphony of taste, elevating your smoking ritual to unprecedented heights.

Embrace the future of elite smoking materials with RAW Black, meticulously engineered for a new generation of enthusiasts who demand nothing but the absolute best. Just like a sleek Ferrari that requires premium fuel, RAW Black embodies uncompromising excellence, setting the standard for top-tier smoking experiences.

At Vape City USA, we understand your quest for unrivaled pleasure. That's why we offer RAW Black rolling papers, an embodiment of luxury and sophistication. Elevate your smoking journey to the next level and embrace the pure essence of indulgence. Shop now and discover the epitome of smoking perfection at Vape City USA, your destination for exceptional smoking essentials.
Product Details:  
Size: 110mm - King Size Slim
50 packs per box
50 leaves per pack
Brand: RAW
Type: RAW Classic Black Rolling Papers
*THIS ITEM IS INTENDED FOR TOBACCO USE ONLY*
Packaging Contents:  
1x RAW Classic Black King Size Slim Rolling Papers 50ct Box