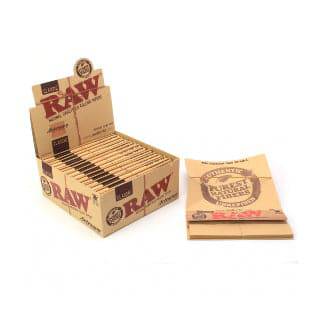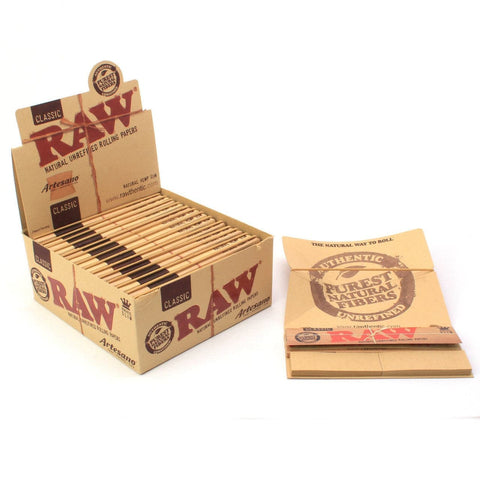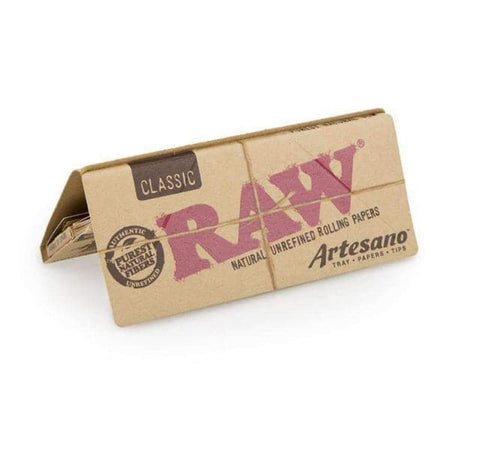 RAW CLASSIC ARTESANO KING SIZE SLIM ROLLING PAPERS 15CT BOX
Experience the epitome of purity and authenticity with RAW 1 1/4 Classic Rolling Papers. Crafted from 100% all-natural materials, these papers are the embodiment of unadulterated smoking pleasure. RAW's commitment to excellence shines through in their hybrid blend of unbleached fibers, allowing you to witness the papers' natural hue firsthand. Immerse yourself in the transparency of these ultra-thin papers while reveling in their remarkable durability.

Each RAW rolling paper features a meticulously designed watermark, a testament to the brand's dedication to perfection. Say goodbye to pesky runs and embrace the consistent, even burn that RAW is renowned for. These rolling papers are a testament to precision craftsmanship, ensuring that every smoking session is a truly delightful experience.

At Vape City USA, we understand the value of authenticity and quality. That's why we offer RAW 1 1/4 Classic Rolling Papers, the go-to choice for connoisseurs who appreciate the purest smoking experience. Join the legions of satisfied RAW enthusiasts who swear by these papers, and elevate your smoking rituals to new heights.

Indulge in the natural essence of RAW 1 1/4 Classic Rolling Papers and discover a world where purity meets pleasure. Enhance your smoking experience today with Vape City USA, your ultimate destination for the finest smoking essentials.
Product Details: 
Size: 110mm - King Size Slim
Tips Size - 26mm
15 units per box
Brand: RAW
Type: RAW Classic Artesano King Size Slim Rolling Papers
*THIS ITEM IS INTENDED FOR TOBACCO USE ONLY*
Packaging Contents:  
1x

 

RAW Classic Artesano King Size Slim Rolling Papers 15ct Box