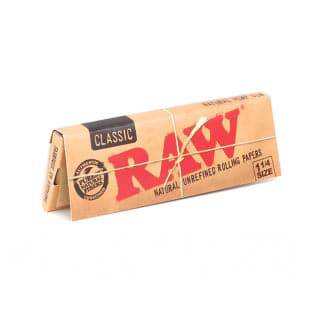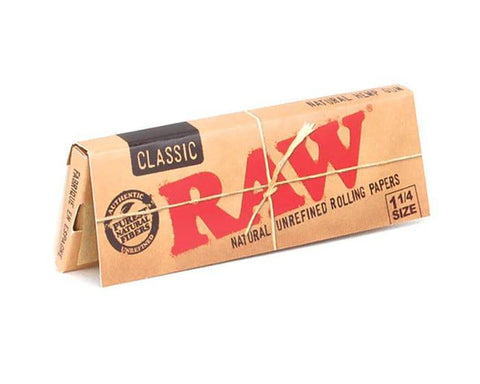 RAW CLASSIC 1 1/4 ROLLING PAPERS PACK
Experience the pure essence of smoking with RAW 1 1/4 Classic Rolling Papers. Crafted with 100% all-natural materials, these papers embody the epitome of authenticity. RAW takes pride in their unbleached fiber blend, showcasing its natural color to remind you of the untainted smoking pleasure it delivers.

Delight in the sheer transparency of RAW rolling papers, allowing you to witness every intricate detail as you indulge in your favorite herbs. Yet, don't let its delicate nature deceive you, as RAW papers are remarkably durable, ensuring a satisfying smoking experience that stands the test of time.

Each paper is adorned with RAW's exclusive watermark, meticulously designed to prevent unsightly runs and maintain the flawless, even burn that has made RAW a legendary name in the industry. Say goodbye to uneven burns and embrace the consistency and quality that RAW is renowned for.

At Vape City USA, we understand the importance of choosing the finest rolling papers to enhance your smoking ritual. With RAW 1 1/4 Classic Rolling Papers, you can trust that you're investing in excellence. Immerse yourself in the world of RAW and discover a smoking experience like no other.

Unlock the true essence of natural smoking pleasure with RAW 1 1/4 Classic Rolling Papers. Shop now at Vape City USA and elevate your smoking journey to new heights.
Product Details: 
Size: 83mm - 1 1/4
Brand: RAW
Type: RAW Classic Rolling Papers
*THIS ITEM IS INTENDED FOR TOBACCO USE ONLY*
Packaging Contents:  
1x Raw Classic 1 1/4 Rolling Papers Pack