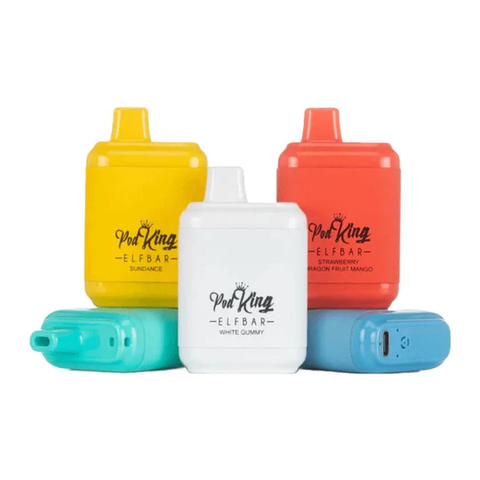 POD KING XC5000 DISPOSABLE VAPE DEVICE - 10PK
Elevate Your Vaping Experience with Mesh Coil Technology
Experience vaping like never before with the Pod King XC5000. This cutting-edge disposable vape device, crafted through a collaboration between EBCREATE and Pod King, is designed to deliver unmatched performance. Equipped with advanced mesh coil technology, it ensures a smooth and consistent vaping experience with every puff.
A Flavorful Adventure with Every Inhale
Indulge in a world of delectable flavors with the Pod King XC5000. With its vast selection of 23 available flavors, ranging from fruity to dessert-inspired, there's a flavor to suit every preference. Immerse yourself in the tantalizing taste profiles carefully crafted to satisfy your cravings and leave you wanting more.
Unleash the Power of the Pod King XC5000
With the Pod King XC5000, you never have to worry about running out of power. This exceptional disposable vape device features a built-in 650mAh battery, ensuring extended usage without compromising on performance. Its reliable power source allows you to enjoy the flavors you love for an extended period.
Rechargeable and Ready to Go
The Pod King XC5000 is designed for convenience. Thanks to its USB-C rechargeable battery, you can easily replenish its power whenever needed. Simply connect it to a compatible charger, and within no time, you'll have a fully charged device ready to deliver an exceptional vaping experience.
Discover the Endless Pleasure of Over 5000 Puffs
The Pod King XC5000 goes above and beyond when it comes to providing satisfaction. With an impressive puff count of 5000+, this disposable vape device ensures you can enjoy extended vaping sessions without interruption. Experience the freedom of indulging in the flavors you love without worrying about running out anytime soon.
Tailor Your Nicotine Experience
Enjoy the freedom to choose your preferred nicotine strength with the Pod King XC5000. Available in a 4% or 40mg nicotine option, this device allows you to customize your vaping experience according to your needs and preferences. Whether you desire a strong nicotine hit or a more moderate experience, the choice is yours.
Device Details:
Size: 12ml
Nicotine Strength: 4.0%
Battery Capacity:

USB-C Rechargeable 600mAh (

cable not included

)

Mesh Coil Integrated

Puff Count: 5000+ Puffs
Flavors: 23 Available Flavors
Flavors:
Banana Drop

Blue Razz Fcucking Fab

Blue Razz Pomo

Bubble Berry

Candy Love

Cranberry Soda

Dragon Fcucking Fab

Fcucking Fab

Fresh Mint

Frozen Apple Peach

Frozen Apple Strawberry

Fuji Lush Iced

Mixed Berries

Peach Fcucking Fab

Peach Mango

Pina Fcucking Fab

Pomo Blue Straw

Rainbow

Red Apple

Strawberry Dragon Fruit Mango

Straw Fcucking Fab

Strazz Candy

Sundance

Watermelon Candy

White Gummy
Package Includes:
10x Pod King XC5000 Disposable Vape Device