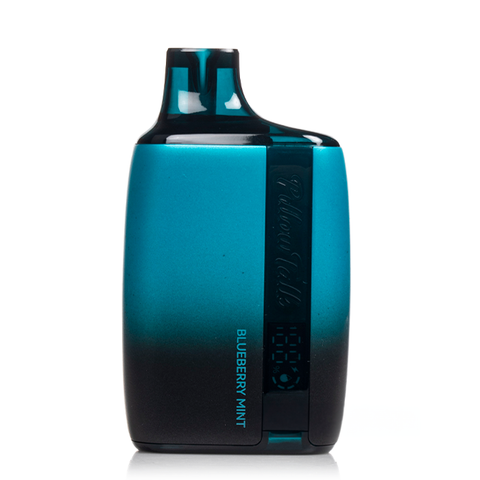 Pillow Talk 8500 Disposable Vape - Blueberry Mint
Introducing the Pillow Talk 8500 Disposable Vape - your gateway to the ultimate vaping experience. With a commitment to innovation and a delectable Blueberry Mint flavor, this device stands out in the vaping world.
Pillow Talk's cutting-edge technology ensures a smooth and consistent vape, thanks to its superior mesh coil design. You'll enjoy an impressive 8500 puffs, extending your vaping pleasure. The robust 550mAh battery, easily rechargeable via Type-C or wirelessly, ensures uninterrupted vaping sessions.
What sets the Pillow Talk 8500 apart is its rare feature of wireless charging, making it convenient and hassle-free. The Blueberry Mint flavor is a perfect blend of sweet blueberries with a refreshing minty twist, creating an invigorating vaping experience.
This disposable vape comes prefilled with 13ml of nicotine salt e-liquid, designed for a satisfying throat hit and intense flavor. The battery screen keeps you informed about the remaining power, so you're never caught off guard.
Pillow Talk offers a range of 15 captivating flavors, ensuring there's something for every palate. From Blue Razz Ice to Tropical Rainbow, each flavor promises a unique and delightful vaping journey.
More than just a vaping device, the Pillow Talk 8500 is an instrument of vaping pleasure, merging design, technology, and flavors into a seamless package. Whether you're an experienced vaper or new to the world of vaping, Pillow Talk guarantees a satisfying journey.
As a nicotine salt disposable, it's perfect for smokers transitioning to vaping. With its user-friendly interface and 8500 puffs, it's more than a vape; it's an experience. Welcome to the future of vaping with Pillow Talk.
Pillow Talk 8500 Disposable Features:
Prefilled Capacity: 13mL
Battery Capacity: 550mAh
Max Puffs: 8500
Nicotine Strength: 5% (50mg)
Operation: Draw-Activated
Heating Element: Mesh Coil
Charging: Type-C Port / Qi Wireless Charging
Reverse Charging Capable
Flavor Highlight:
Blueberry Mint: A perfect blend of sweet blueberries with a refreshing minty twist, this combination will invigorate your senses.
Flavors:
Blueberry Mint
Blue Razz Ice
Clear
Cool Mint
Cranberry Apple Pear
Grape Watermelon
Peach Mango Pineapple
Peach Nectar
Strawberry Kiwi Melon
Strawberry Watermelon Candy
Sweet Mint
Tango Mango
Triple Melon
Tropical Rainbow
Watermelon Ice
Package Includes:    
1x Pillow Talk 8500  Disposable Vape