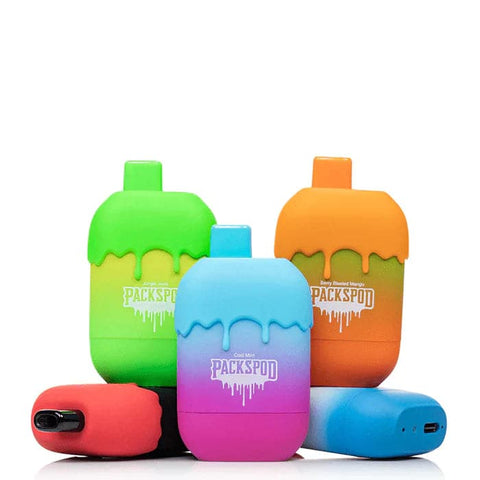 PACKWOODS PACKSPOD 5000 DISPOSABLE VAPE DEVICE - 3PK
Unleash the Flavorful Experience
Are you ready to embark on a vaping journey like no other? Introducing the all-new Packpods 5000 Disposable vape, a cutting-edge vaping device designed to deliver an unparalleled flavor experience. With 12ml of salt nicotine e-liquid per device, each puff will transport you to a world of tantalizing sensations.
Effortless Operation, Maximum Style
Say goodbye to complicated settings and clunky buttons. The Packpods Disposable is all about simplicity and convenience. Featuring a draw-activated firing system, all it takes is one smooth inhale to unleash the powerful flavor clouds. No extra work required – just effortless satisfaction with every puff.
A Flavor for Every Craving
At Packpods, we believe that variety is the spice of life. That's why we offer an impressive selection of 15 delicious flavors to suit every palate. Whether you crave the refreshing chill of menthol or the luscious sweetness of fruits, we have something for everyone. Indulge in the rich notes, the smooth finishes, and the irresistible aromas that will leave you craving for more.
Device Details:
Size: 12ml
Nicotine Strength: 5.0%
Battery Capacity:

 

USB-C Rechargeable 1400mAh (

cable not included

)

Puff Count: 5000+ Puffs
Flavors: 15 Available Flavors
Flavors:
Banana Flambe (Arctic Banana)
Biscotti Latte (Biscotti)
Black Cherry Gelato (Cherry Pop)
Blue Slurpie (Miami Razz)
Gelato Freeze (Cool Mint)
Guava Bubblegum (Sweet Guava)
Jelly Dulce (Grape)
Marshmallow Fluff (Sweet Cloud)
Miami Haze (Watermelon Freeze)
Orange Creamsicle (Orange Burst)
Pina Colada (Pineapple Coconut Rum)
Pop Rocks (Pop Rocks Candy)
Rainbow Sorbet (Berry Blasted Mango)
Sour Gushers (Jungle Juice)
Unicorn Sherbert (Kiwi Strawberry)
Package Includes:  
3x Packwoods Packspod 5000 Disposable Vape Device