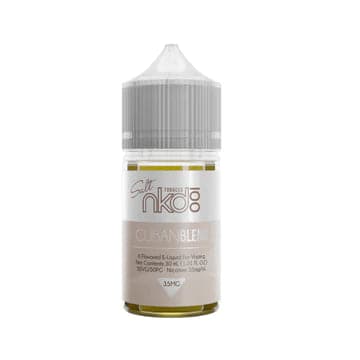 NAKED100 SALT - CUBAN BLEND 30ML
Transport yourself to the exotic allure of Cuba with Cuban Blend Salt by Naked 100 e-liquid. Whether you're a Spanish fans or simply seeking a flavor adventure, this e-liquid will captivate your taste buds with its irresistible medium-bodied taste. Prepare to be immersed in the essence of Caribbean tobacco as Cuban Blend flawlessly combines the finest flavors into a symphony of satisfaction.

Indulge in the velvety smoothness that only rich tobacco can provide, complemented by the alluring aroma reminiscent of the world's finest Cuban cigars. Every puff will transport you to a world of sophistication and indulgence, leaving you craving for more.

To truly savor the expert craftsmanship of Naked 100's exceptional e-liquid, enhance your vaping experience with a Pod Starter Kit. Immerse yourself in the perfect synergy between device and flavor, allowing you to unlock the full potential of Cuban Blend Salt.

At Vape City USA, we pride ourselves on offering the finest selection of e-liquids that cater to your refined tastes. Explore our extensive range of premium vape products and accessories, sourced from the most reputable brands in the industry.

Elevate your vaping journey with Cuban Blend Salt by Naked 100, and embark on a sensory voyage that will leave you craving for more. Shop now at Vape City USA, your ultimate destination for exquisite vaping pleasures.
Product Details:

Brand: Naked100 Salt
Flavor: 

Cuban Blend

Bottle Size: 30mL
Bottle Type: Chubby Gorilla 
VG/PG: 50

/50

Flavor Profile:

Tobacco / Medium Body / Cuban Cigar

Made in USA
Nicotine Type: 

Salt Nicotine

Available Nicotine Levels: 35mg / 50mg
Package Includes:
1x Naked100 Salt - Cuban Blend 30mL