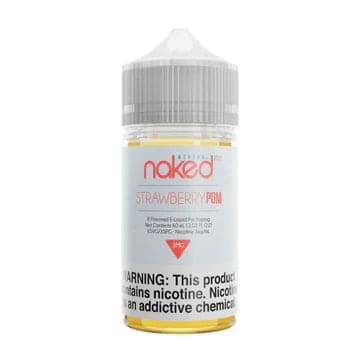 NAKED100 MENTHOL - STRAWBERRY POM 60ML
Indulge in the extraordinary fusion of flavors with Strawberry Pom by Naked100. This remarkable e-liquid combines the luscious sweetness of strawberries, the tanginess of kiwi, the mouth-watering essence of pomegranate, all complemented by a refreshing chill of menthol. Prepare yourself for a vaping experience that will leave you craving for more, with each puff sweeter and fresher than the last.

Immerse yourself in the artistry of Naked100's expertly crafted E Liquid. Strawberry Pom delivers a smooth and satisfying vape, showcasing the perfect balance of sweet and tangy fruit flavors. Let your taste buds dance with delight as you savor every note of this sensational blend.

To truly unlock the full potential of Naked100's masterpiece, we recommend pairing Strawberry Pom with one of our exceptional Starter Kits. Our carefully curated collection of starter kits ensures optimal performance and a seamless vaping experience, allowing you to fully appreciate the intricate flavors and richness of this incredible e-liquid.

At Vape City USA, we are committed to providing you with the finest vaping products and the most satisfying flavors. Explore our extensive range of e-liquids, devices, and accessories, all designed to enhance your vaping journey. Experience the pure pleasure of Strawberry Pom by Naked100 and let your taste buds embark on a sensational adventure. Shop now and elevate your vaping experience with Vape City USA, your ultimate destination for premium quality and unparalleled satisfaction.
Product Details:

Brand: Naked100
Flavor: Strawberry Pom
Bottle Size: 60mL
Bottle Type: Chubby Gorilla 
VG/PG:

65/35

Flavor Profile:

Kiwi / Ice / Various Berries / Menthol

Made in USA
Nicotine Type:

Freebase

Available Nicotine Levels: 0mg / 3mg / 6mg / 12mg
Package Includes:
1x Naked100 Menthol - Strawberry Pom 60mL