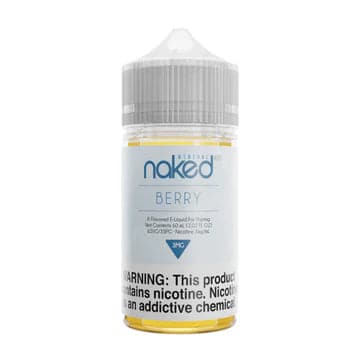 NAKED100 MENTHOL - BERRY 60ML
Indulge in the tantalizing taste of mixed berries with Berry E-Liquid by Naked100. This exceptional E-juice blend brings together the luscious flavors of ripe raspberries, succulent blueberries, and juicy blackberries, enhanced with a refreshing touch of cool menthol. Get ready to elevate your vaping experience to new heights with this extraordinary concoction.

Picture yourself with your favorite mod, savoring the exquisite fusion of berries on every inhale. Feel the burst of intense berry flavors tantalizing your taste buds, while the exhale brings forth a wave of invigorating menthol, creating the perfect harmony of sensations. It's a symphony of flavors where the natural sweetness of the berries harmonizes flawlessly with the icy coolness of menthol.

Naked100 has meticulously crafted this premium E-liquid to provide an unparalleled vaping experience. This masterpiece is ideally paired with a Starter Kit, making it the perfect choice for vapers of all levels. Get ready to embark on a sensory journey like no other as you indulge in the remarkable blend of berries and menthol.

At Vape City USA, we bring you the finest selection of e-liquids from top brands, and Berry E-Liquid by Naked100 is no exception. We are committed to offering you the highest quality products and ensuring your satisfaction every step of the way. Experience the ultimate vaping pleasure with Berry E-Liquid and explore our extensive range of e-juices, mods, and accessories. Shop now and unlock a world of flavor at Vape City USA.
Product Details:

Brand: Naked100
Flavor: Berry
Bottle Size: 60mL
Bottle Type: Chubby Gorilla 
VG/PG:

65/35

Flavor Profile:

Berry / Raspberry / Blackberry / Menthol

Made in USA
Nicotine Type:

Freebase

Available Nicotine Levels: 0mg / 3mg / 6mg / 12mg
Package Includes:
1x Naked100 Menthol - Berry 60mL