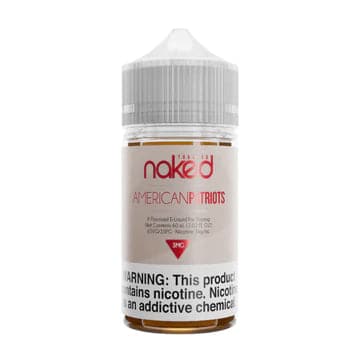 NAKED100 - AMERICAN PATRIOTS 60ML
Gear up for an exhilarating battle that's sure to leave you satisfied! Unleash your inner warrior with American Patriots by Naked100, the ultimate e-liquid that takes the fight straight to your taste buds. Prepare for an extraordinary encounter as the smooth, delectable essence of the tobacco plant comes to life in every puff.

American Patriots encapsulates the true essence of the tobacco you hold dear, harmoniously blended with the perfect dose of nicotine. Embrace the rich flavors and robust satisfaction that only the finest e-liquid can deliver. With American Patriots, the spirit of American vaping is right at your fingertips, empowering you with an experience that embodies strength, resilience, and sheer satisfaction.

Dive into Naked100's unparalleled take on premium e-liquid and embrace the essence of the American vaping experience. This remarkable creation pairs perfectly with a Starter Kit, unlocking the true potential of Naked100's craftsmanship and ingenuity.

Join the ranks of vaping connoisseurs who appreciate the art of premium e-liquid. Step into the world of American Patriots and conquer your cravings with Vape City USA. Discover the pinnacle of vaping excellence and embark on an unforgettable journey that ignites your senses. It's time to experience the true power of Naked100's American Patriots and indulge in vaping greatness.
Product Details:

Brand: Naked100
Flavor:

American Patriots

Bottle Size: 60mL
Bottle Type: Chubby Gorilla 
VG/PG:

65/35

Flavor Profile:

Tobacco / Earthy / Natural

Made in USA
Nicotine Type:

Freebase

Available Nicotine Levels: 0mg / 3mg / 6mg / 12mg
Package Includes:
1x Naked100 - American Patriots 60mL