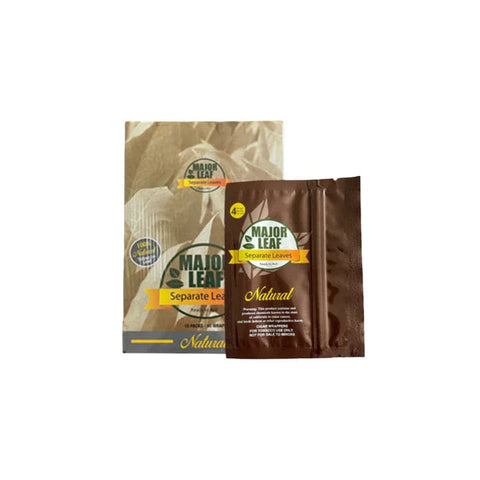 MAJOR LEAF BROWN TOBACCO WRAPS 4-PACK - 1PC
Immerse yourself in the essence of true tobacco indulgence with the remarkable Major Leaf Brown Tobacco Wrap Pack. Prepare to embark on a journey of rich and authentic flavors that will elevate your smoking experience to new heights.

Crafted with utmost care, these Whole Leaf Tobacco Wraps are meticulously pre-cut and pre-washed, ensuring a smooth and satisfying burn with every draw. Sourced exclusively from the sun-kissed fields of the Dominican Republic, these leaves guarantee a consistently reliable and dependable smoking session that will leave you craving for more.

Unleash the full potential of your smoking pleasure with each silver pack, generously containing 4 readily available leaves. Experience the ultimate value for your money as you savor the unrivaled quality and versatility that these exceptional leaves offer.

Indulge in the exquisite taste and aroma that only all-natural leaves can deliver. These backwoods killers are the true game-changers, revolutionizing your smoking experience like never before. Discover a whole new level of satisfaction and elevate your senses with each and every puff.

At Vape City USA, we pride ourselves in offering the finest tobacco products at unbeatable prices. Get your hands on the Major Leaf Brown Tobacco Wrap Pack today and unlock a world of unrivaled smoking pleasure. Experience the difference only at Vape City USA, your ultimate destination for superior quality and exceptional value.
Product Details:
4 Pre-cut & Pre-washed leaves per pack
100% naturally sourced tobacco from Dominican Republic
Can hold up to 3 Grams per leaf
NO VEIN EVER - VEIN FREE
Package Includes:
1x Major Leaf Brown Tobacco Wraps 4-Pack