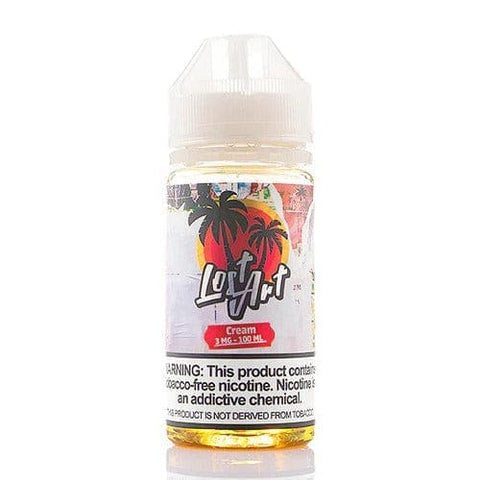 LOST ART LIQUIDS - COTTONTAIL CREAM 100ML
Indulge in the luscious allure of our Strawberry Cream Dream vape juice. This irresistible concoction combines the succulent essence of perfectly ripened strawberries with not one, not two, but three heavenly sweet creams. Brace yourself for a symphony of flavors that will transport your taste buds to new heights.

With every inhale, prepare to be captivated by the burst of freshly picked strawberries that saturate your palate with their juicy sweetness. It's a strawberry sensation like no other, as if you've just plucked them from a sun-kissed field.

But that's not all. As you exhale, the strawberry infusion seamlessly merges with the delectable embrace of three distinct, mind-blowing sweet creams. The resulting harmony of flavors creates a creamy strawberry milk vape juice that will leave you craving more.

Picture yourself sipping from a tall glass of luscious strawberries and velvety milk. That's the experience that awaits you with every single inhale and exhale of our Strawberry Cream Dream vape juice. It's the perfect balance of fruitiness and creaminess, ensuring a vaping journey that's both satisfying and indulgent.

At Vape City USA, we pride ourselves on curating the finest flavors that ignite your senses and elevate your vaping pleasure. Get ready to embark on a blissful adventure with our Strawberry Cream Dream vape juice, and discover why our customers keep coming back for more.

Don't deny yourself the pure delight of this sinfully delicious blend. Shop now and experience vaping ecstasy with Vape City USA, your trusted destination for exceptional flavors and unforgettable experiences.
Product Details:

Brand: Lost Art Liquids
Flavor: Cottontail Cream
Bottle Size: 100mL
Bottle Type: Chubby Gorilla
VG/PG: 70/30
Flavor Profile:

Rich & Creamy Strawberry Milk

Made in USA
Nicotine Type: Freebase
Available Nicotine Levels: 3mg
Package Includes:
1x Lost Art Liquids - Cottontail Cream 100mL