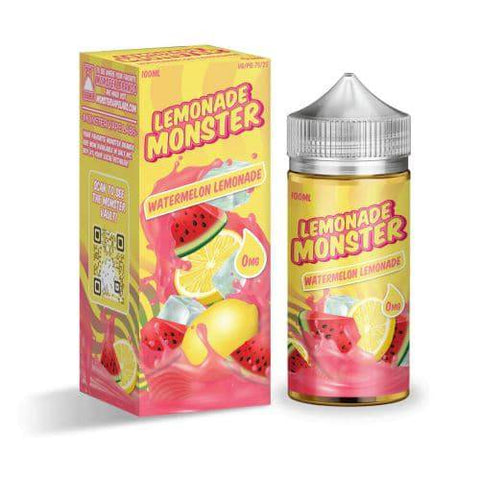 LEMONADE MONSTER - WATERMELON LEMONADE 100ML
Introducing the captivating Lemonade Monster series from the ever-innovative brand, Jam Monster. Prepare to be enthralled by their latest creation, Watermelon Lemonade, as it transports you to a realm of tantalizing flavors and refreshing sensations that will leave you craving for more.

What sets Watermelon Lemonade vape juice apart? This meticulously crafted blend by Lemonade Monster offers a truly premium vaping experience. From the very first inhale to the lingering exhale, you'll be greeted with an explosion of flavors, seamlessly combining the invigorating essence of lemonade with the succulent burst of juicy watermelon. To perfect this beverage-inspired delight, a hint of icy menthol is added, delivering an exhilarating chill with every puff. Indulge in the most gratifying vape you've ever encountered, where the infusion of watermelon into a classic lemonade flavor takes refreshment to extraordinary heights.

Lemonade Monster is a distinguished collection within the renowned Jam Monster brand, a name synonymous with excellence in the vaping world. Each lemonade flavor in this lineup is skillfully infused with an array of delectable fruits, concocting an enchanting flavor journey like no other. Thanks to the expertise of Fresh Juice Co., a highly reputable manufacturing company, these sensational blends come to life. Headquartered in Orlando, Florida, the Jam Monster brand has evolved into an industry leader, and Lemonade Monster is propelling its future.

Watermelon Lemonade by Lemonade Monster is an unparalleled vape juice blend that will captivate every palate. It impeccably replicates the taste of watermelon-infused lemonade, complete with an invigorating menthol twist, ensuring an authentic and gratifying experience. Immerse yourself in this extraordinary fusion of flavors and embark on a journey of vaping bliss.

Discover the irresistible allure of Watermelon Lemonade by Lemonade Monster and elevate your vaping pleasure today. Embrace the future of vaping with Vape City USA, your trusted destination for extraordinary flavors and exceptional quality.
Product Details:

Brand: Lemonade Monster
Flavor: Watermelon Lemonade
Bottle Size: 100mL
Bottle Type: Chubby Gorilla 
VG/PG: 75/25
Flavor Profile: Watermelon

 / Lemon 

/ Tangy

Made in USA
Nicotine Type:

Freebase

Available Nicotine Levels: 0mg / 3mg / 6mg
Package Includes:
1x Lemonade Monster - Watermelon Lemonade 100mL