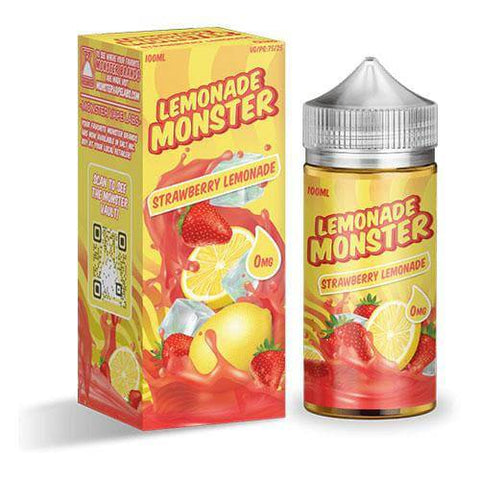 LEMONADE MONSTER - STRAWBERRY LEMONADE 100ML
Introducing a vape juice that will captivate your senses and leave you craving for more - Strawberry Lemonade by Lemonade Monster. Prepare yourself for an extraordinary flavor experience that coats your mouth, fills your airways, and dazzles your taste buds like no other. This 100mL bottle of vape juice is a true masterpiece, meticulously crafted to deliver an authentic and complex flavor that will blow your mind.

What sets Strawberry Lemonade vape juice apart? It is the result of a masterful blending process by Jam Monster's renowned mixologists. This premium flavor aims to replicate the delectable taste of a refreshing strawberry lemonade drink, combining the lusciousness of juicy strawberries, the tangy zest of lemonade, and a cool menthol twist. The result is a vape juice that offers an unmatched, true-to-life flavor experience that will leave you utterly satisfied. Indulge in this delightful fusion of flavors, available in a 100mL bottle and nicotine strengths of 0mg, 3mg, and 6mg to suit your preference.

Jam Monster stands as a titan among vape juice brands, earning a well-deserved reputation for crafting some of the most beloved flavors in the industry. Lemonade Monster represents their latest creation, housing a collection of remarkable lemonade-infused blends that perfectly complement a variety of fruits to create the authentic lemonade taste you know and love. Behind the scenes, Fresh Juice Co, a renowned manufacturing company based in Orlando, Florida, brings these flavors to life. Known for their exceptional taste profiles, Fresh Juice Co's expertise shines through in every bottle of Jam Monster.

Prepare to be enamored by the irresistible taste of Strawberry Lemonade by Lemonade Monster - a flavor that is bound to win the hearts of all vape enthusiasts. Immerse yourself in the perfect fusion of strawberry, lemonade, and menthol, creating an unforgettable experience that you won't be able to resist. Don't miss out on this sensational vape juice blend that will leave you wanting more and more. Discover the extraordinary world of Lemonade Monster today.
Product Details:

Brand: Lemonade Monster
Flavor: Strawberry Lemonade
Bottle Size: 100mL
Bottle Type: Chubby Gorilla 
VG/PG: 75/25
Flavor Profile: Strawberry

 / Lemon 

/ Tangy

Made in USA
Nicotine Type:

Freebase

Available Nicotine Levels: 0mg / 3mg / 6mg
Package Includes:
1x Lemonade Monster - Strawberry Lemonade 100mL