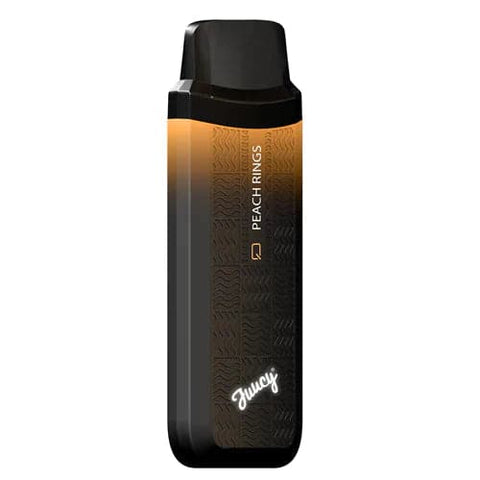 JUUCY Q DISPOSABLE VAPE DEVICE - 3PK
Introducing the Juucy Model Q - the epitome of power and convenience in a disposable vape device. With an astonishing puff count exceeding 6000 and an enormous 15mL e-liquid capacity, this device guarantees an immensely satisfying vaping experience. Prepare to be blown away by the Model Q's standout feature: its remarkable mesh coil, delivering unparalleled flavor that surpasses all other Juucy disposables. Combined with Juucy's renowned reputation for spot-on taste, the Model Q stands as the ultimate choice for those seeking a delectable and gratifying vape.

But that's not all. The Model Q takes it up a notch with its USB-C rechargeable 1050mAh battery, and the USB cable is conveniently included with the device. Bid farewell to wasteful disposable vapes as the Model Q offers sustainability through easy recharging whenever the battery runs low.

Delight in a world of variety with the Model Q, available in a staggering selection of 12 different flavors. Whether you crave the fruity, the sweet, or the savory, Juucy caters to all taste preferences. Without a doubt, the Juucy Model Q reigns supreme among disposable vape brands, thanks to its exceptional capacity, extraordinary flavor, and the added convenience of a rechargeable battery.

Experience the pinnacle of disposable vaping with the Juucy Model Q. Shop now at Vape City USA and savor every moment of this extraordinary vaping sensation. Don't settle for less when it comes to your vaping pleasure. Choose Juucy, the unrivaled leader in disposable vapes.
Device Details:
Capacity: 15ml
Puff Count: + 6000
Nicotine Strength: 5.0%
Battery Capacity:

 

USB-C Rechargeable 1050mAh (

cable included

)

Flavors: 12 Available Flavors
Flavors:
Creamberry

Grape Soda

Juucy Rancher

Lemonhead

Lush

Melonade

Peach Rings

Q Blue

Skittles

Tropix

Very Melonberry

Wintermint
Package Includes:  
3x Juucy Model Q Disposable Vape Device