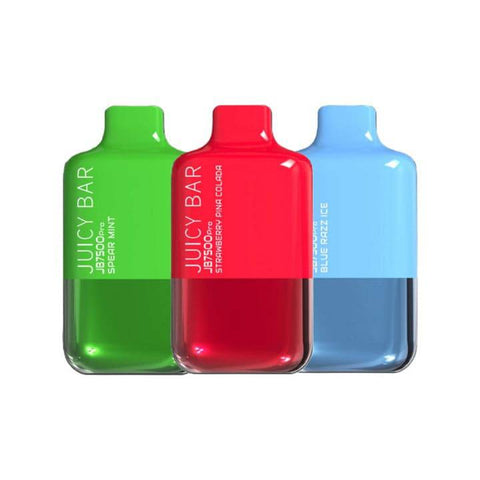 JUICY BAR JB7500 PRO DISPOSABLE VAPE DEVICE - 10PK
Discover the ultimate vaping experience with the Juicy Bar JB7500 PRO Disposable Vape Device in a generous pack of ten (10PK). This remarkable pack is your ticket to an extraordinary vaping journey filled with unrivaled performance, exceptional flavor, and unparalleled convenience.
The Juicy Bar JB7500 PRO stands out among disposable vapes, designed to take your vaping experience to new heights. Equipped with a 650mAh built-in battery, every puff from this device delivers a powerful and satisfying vapor production that enlivens your taste buds and provides a gratifying throat hit. Prepare yourself for an unforgettable vaping experience.
One of the standout features of the Juicy Bar JB7500 PRO is its remarkable longevity. With approximately 7500 puffs per device, this pack of ten ensures an extended and uninterrupted vaping experience. Say goodbye to the inconvenience of frequent recharging or replacing your vape device and embrace the freedom of extended satisfaction.
The upgraded mesh coil heating system sets the Juicy Bar JB7500 PRO apart from the competition, guaranteeing robust and consistent vapor production. No matter if you're chasing massive clouds or indulging in intense flavors, this device delivers in every aspect. Experience the reliability and performance that defines the Juicy Bar JB7500 PRO.
With a generous 17ml e-liquid capacity per device, the pack of ten ensures you have an abundance of vaping sessions without the need for constant refills. The salt nic formulation of 50mg strength adds an extra level of satisfaction, delivering a smooth and flavorful nicotine hit. Immerse yourself in a vaping experience that is both convenient and gratifying.
Indulge in a tantalizing array of 21 flavors with the Juicy Bar JB7500 PRO. From fruity concoctions bursting with freshness to icy menthols and indulgent dessert-inspired blends, there's a flavor to suit every taste bud. Embark on a journey of taste exploration and discover your signature flavor. With such a diverse range, satisfaction is just a puff away.
As a proud American brand, Juicy Bar upholds the highest standards of quality and excellence in vaping. Each device is meticulously crafted to ensure a superior vaping experience you can trust. Elevate your vaping journey with the Juicy Bar JB7500 PRO and unlock a world of satisfaction, flavor, and convenience.
Don't miss out on the opportunity to enhance your vaping experience with the Juicy Bar JB7500 PRO Disposable Vape Device. Explore our store to discover other exceptional products that perfectly complement your vaping journey. Immerse yourself in the power, flavor, and convenience of this extraordinary pack of ten. Order now and embark on an extended vaping adventure like never before.
Device Details:
E-liquid Capacity: 17ml

7500 Puffs Approx.
Integrated 650mAh Rechargeable Battery (Type C)
1.10 Ohms Mesh Coil Heating
Draw Activated Firing Mechanism


Salt Nic Formulation (

5%) 50mg Strength
A Proud American Product
Flavors: 21 Flavors Available
Flavors:

American Coffee 1776

Black Ice

Blueberry Raspberry

Blueberry Watermelon

Blue Razz Ice

British Berry

Coconut Banana

Fanta Strawberry

Fruit Cocktail

Kiwi Dragon Berry

Lemon Lime Mint

Mexican Cola Ice

Mexican Mango Ice

Orange Mango Watermelon

Peach Mango Pineapple

Pineapple Mint

Snow Cone Ice

Spear Mint

Strawberry Pina Colada

Strawberry Watermelon

Watermelon Bubble Gum
Package Includes:
10x Juicy Bar JB7500 PRO Disposable Vape Device